Is the TSA Out of Line?
On November 24, 2010
In Media
52 Comments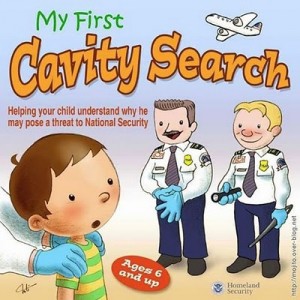 By Greg Hunter's USAWatchdog.com
When I Google the phrase "TSA outrage," I find 2 million search results.  I can only view this as a black eye for the Transportation Security Administration.  I know these folks have a tough job trying to keep the country safe from terrorists, but who reins them in when they go too far?  What do I mean by too far? Some examples include being arrested by the TSA over applesauce, a bladder cancer survivor being left covered in urine after an aggressive pat-down at the airport and TSA child molestation – children being strip searched and fondled in public by agents.   If you do not submit to the radiation of full body TSA scanner images then you get the pat-down check from the TSA. One of the best videos I found that documents some of the malfeasance at the hands of TSA agents was done recently on CBS.  (Click here to check it out.) 
When it comes to child pat-downs at the airport for security reasons, plenty of websites are running an Op-Ed piece called "It's Sick – Plain and Simple."  The post says in part, "Did not the TSA, Homeland Security, and the White House (and the jackals in Congress that fund this insanity) anticipate this as an outcome? There are two possibilities here: either this is official idiocy and arrogance of the highest order or this outcome was anticipated and deemed acceptable.  I don't know the answer…but I do know that as a government agency that works closely with the CIA and FBI, Homeland Security and the TSA have access to hundreds of psychologists and psychiatrists, in their employ, under contract, and available at the drop of a dime." The post goes on to quote child advocate and author Kenneth Wooden, "How can experts working at the TSA be so incredibly misinformed and misguided to suggest that full body pat downs for children be portrayed as a game?!  To do so is completely contrary to what we in the sexual abuse prevention field have been trying to accomplish for the past thirty years. Such policy could essentially desensitize children to inappropriate touch and ultimately make it easier for sexual offenders to prey on our children." (Click here to see one of the several websites that ran this post.)
Some are saying what the TSA is doing is more ominous than trying to keep Americans safe—it is a control issue.  Simon Black from Liberallychallenged.com recently wrote, "I'm convinced that what we're seeing right now from the US Transportation Security Administration (TSA) is the tip of the spear in the government's battle for increased control of the public.  The groundwork has been laid for years– legislation empowering the TSA has gradually eroded civil liberties to the point that airports in the United States have now become 'no rights' zones. . . . These tactics are not about security… they're about submission, obedience, and cultivating the slave mentality– that people should be afraid of their government and happily yield to authority without question or hesitation." (Click here to read more from Liberallychallenged.com)
Do you think Mr. Black is over the top?  You might think differently if you watched CNBC on Monday.  The business network reported that the Pentagon is actively engaged in planning responsive action to large scale economic breakdown and civil unrest.  Check out the video below and see it for yourself:

These are all just little arrows that point to a new normal in America.  It is looking like we are in the process of getting poorer and having less civil rights.   The Reagan era slogan, "Morning in America," is turning into lights out for liberty.