WNW 191-Criminal Financial System, Gold Fraud, Middle East on Fire, China Warns US Again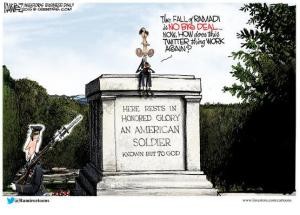 By Greg Hunter's USAWatchdog.com  
The bankers have done it again.  They committed an enormous global crime and only paid a fine.  JP Morgan, Barclays, Citigroup, Royal Bank of Scotland and UBS will pay $5.8 billion in penalties for rigging the $5.3 trillion a day currency market.  Once again, nobody will go to jail, even though all these big banks plead guilty to criminal charges for rigging the Forex market.  UBS received immunity from criminal prosecution because it blew the whistle on the crime.  I did not know a bank can be a criminal and the humans running it be exempt from charges.  This means the masterminds will pay nothing, and the fines will be paid by shareholders.  Why should you care?  This is a sign that the system is extremely weak and is being propped up by pure fraud and manipulation.  My friend Gregory Mannarino says that the $5.8 billion fine is nothing and is the cost of doing business.  Mannarino told me this is just a show to make people think the system is safe and regulated and points out, "There is a need to keep confidence in the financial system."   Mannarino says if the fine was nearly $6 billion, how do you know the bankers didn't make $600 billion in this fraud."  Again, nobody at the banks goes to jail and shareholders pay the fines.
Guess what?  UBS is a whistleblower in a new case coming up, and this time, it involves some of the same big banks and price rigging in the precious metals market.  That's right, gold and silver prices are being rigged, and the Justice Department is probably going to fine some more bankers.  Might I remind you that several big banks paid fines after admitting to rigging the LIBOR interest rate markets.  Hundreds of trillions of dollars in interest rates are set off LIBOR.  Let's see, interest rates have been rigged, currency markets have been rigged and precious metals markets are being rigged.  Are you getting the picture of how dire it must be that all markets are rigged in some way?  This past week, Rob Kirby said, "The markets are a crime scene."  This is not an exaggeration.  There is proof in terms of fines, penalties and widely reported cases that all markets are rigged in some way, and governments will not jail any of these bankers!  Not a single big name banker has gone to jail for massive global fraud.  What could go wrong?
In the latest "there is no recovery" news, look no further than the Federal Reserve.  In last month's Fed meeting, policymakers said they would not raise interest rates in June.  According to USA Today, it is because of "the economy's recent sluggish performance."  There is NO RECOVERY and the Fed knows it.
It looks like a crisis has been averted off the coast of Yemen.  Iran has agreed to UN inspections of a cargo ship carrying humanitarian aid to Yemen.  Iraq is not that lucky.  Ramadi has fallen to ISIS.  So has the ancient city of Palmyra in Syria.  With these defeats, ISIS get new equipment and tanks as they are abandoned by retreating Iraq forces.  The US policy in Iraq is turning into a disaster, and, yet, the Presidents top priority is "climate change," also known as "global warming."  That is the top "security threat."
We also found out this week that there is major cooperation between Iran and al-Qaeda.  Of course, ISIS is an even more radical offshoot of al-Qaeda.  You would never know that if you only listened to the mainstream media such as USA Today.  Their front page headline about new information gathered in the Bin Laden raid talks of "Love letters."  The headline should read "Bin Laden Intel Shows Iran and al-Qaeda Working Together for Years."  
Finally, China is, once again, telling the US to back off in the South China Sea.  This time because of a U.S. spy plane taking pictures of the islands they are building in the middle of nowhere.  It has always been international waters, but now China is claiming a large chunk of it.
Join Greg Hunter as he talks about these stories and more in the Weekly News Wrap-Up.