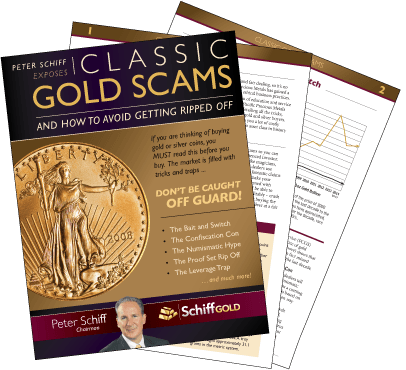 Do you want to know a secret that could save you thousands of dollars? Here it is: Virtually every major gold dealer advertising on TV or radio is looking to rip you off. Through tactics like the Bait-and-Switch, the Confiscation Con, and others, these dealers lure buyers in with promises of low prices, then sell you products worth half or less of their advertised value. What's worse, this is all completely legal!
For the first time, there is a report that exposes all of the most common gold scams – and it is issued by the most reliable name in hard assets, Peter Schiff.
Learn how to safely buy precious metals. Click here for more information.
Peter Schiff has dedicated his career to help small investors avoid the biggest scams on Wall Street – from overhyped dot­coms to repackaged junk mortgages. He was the only one on CNBC that warned people of the 2008 financial crisis. Peter isn't afraid to take on powerful special interests and teach individual investors how to beat Wall Street.
You too can become an expert in precious metals investing by downloading Peter's free special report, Classic Gold Scams and How to Avoid Getting Ripped Off. This report has already helped tens of thousands of investors around the world. Buying physical gold and silver is the right investment decision for 2015, but you must read this report first to avoid getting ripped off.
Download the FREE report here: Classic Gold Scams and How to Avoid Getting Ripped Off