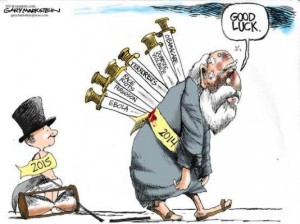 By Greg Hunter's USAWatchdog.com
I can't believe 2014 is done and gone. I said in 2014 that there would be some sort of dislocation and that would flow into 2015.  I was not sure what it would be, but now, I think the crash in oil prices was that event. Oil prices were cut in half in a matter of months. Now, the oil derivatives and debt underpinning the energy sector are coming under pressure. Derivatives and gold expert, Rob Kirby will be coming on the show Sunday to explain how the ball is rolling downhill for another financial calamity.  It will be what I call an "Early Sunday Release" (ESR), and Kirby outlines the timing and gives his analysis.  Enjoy the ride as we go into 2015 sitting at the peak of the rollercoaster before it starts downhill.
By the way, there will be no Weekly News Wrap-Up (WNW) for Friday, January 2, 2015.  I am taking some time off but will be back on schedule next week.  Thank you for making 2014 a successful year for USAWatchdog.com.  I have said this many times, but it is worth saying again:  I have some of the smartest people on the internet commenting here on USAWatchdog.com.  Many folks say the comments are their  favorite part of USAWatchdog.com.  I can't argue with them.
One final note: USAWatchdog.com and our YouTube channel had it's best year ever in terms of growth.  The story below came out on ZeroHedge.com and it really warms my heart.  It's titled "For CNBC, 2014 Was The Worst. Year. Ever."   Here's the link for a quick read:  http://www.zerohedge.com/news/2015-01-01/cnbc-2014-was-worst-year-ever