Living in a Permanent Distortion – Nomi Prins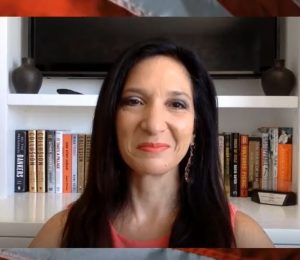 By Greg Hunter's USAWatchdog.com (Early Sunday Release)
Three time best-selling book author Nomi Prins says long before the Covid 19 crisis, the global economy was faltering big time.  The Fed stepped in with the start of massive money printing in late 2019 to save the day.  Prins explains, "We were already in crisis mode as I mentioned at the end of my last book going into 2019.  What did we see at the end of 2019?  We saw this pivot, and I call it phase two. . . . Central banks had pivoted to easing mode. . . . Come September, October, November and December, the Fed is producing repo operations.  Those are short-term lending operations that are supposed to be the purview of the banks . . . . The Fed is not supposed to get involved, but it did.  The Fed had all kinds of excuses.  It said it was not QE, but it was. . . . The debt at the end of 2019 for the world was three times GDP.  For every $3 borrowed, only $1 of economic activity occurred.  That's what we started 2020 with.  Throw a pandemic into that . . . and you have a long drawn out financial and economic crisis."
Now, the money printing has gone into overdrive to save the system from the virus crisis.  The social and economic damage, according to Prins, is profound and not going away.  Prins points out, "We are not going to pay back this debt, and this is global.  Nobody is even considering trying to pay back the debt that has been created.  Let's think about why that debt has been created.  It's not just because the economy slowed down.  That's one reason and kind of an excuse.  The reality is the Fed is on steroids, and other central banks are on steroids . . . throughout the world in a larger number and larger magnitude than in the wake of the financial crisis of 2008.  This means all this new debt created is even cheaper than the debt created going into the 2008 crisis.  So, more debt, created more cheaply, means less incentive to pay it back and more incentive to push it down the road and grow it.  You've got this snowball of debt rolling down this high mountain, and it's rolling and growing and getting bigger.  The mountain, which is the main street economy, is coming down as the snow ball is coming down, and the main street economy itself, that foundation, is really shaky. . . . How does this end?  It ends with us, the foundation, which is the main street economy, by both that snowball of debt and the avalanche of the mountain.  That's going to be a multi-decade problem."
Prins says this next stage has a brand new name and explains, "I call this a 'Permanent Distortion.'  I have not used this term in prior books, but I am using it because . . . the disconnect between financial assets, equity markets and the real economy . . . has become massive. . . . There is going to be this endless supply of artificial stimulation into the markets. . . . Former New York Fed President Bill Dudley said the Fed's balance sheet is going to $10 trillion.  That's what I have been saying, and now he finally said it.  That's not going away anytime soon.  That's not being unwound anytime soon.  That becomes permanent lift to financial assets. . . . In the wake of that, less real capital gets used for infrastructure, research and development, growth and retooling the economy and getting jobs into this new period."
Prins says gold prices are going to "follow the expansion of the Fed's balance sheet."  It is that simple, and Prins predicts, "As we saw in the wake of the financial crisis of 2008, gold and silver will have the ability to go up quite substantially as the Fed's book increases in size, which we know it is going to do.  We have been told that multiple times by many different words by Federal Reserve Chairman Jerome Powell."
In closing, Prins says, "We are continuing to drive up asset bubbles where we don't have the real economy to back it up.  The more this 'Permanent Distortion' gets bigger, the more the likelihood the next crisis will happen . . . and it will be from a higher height.  It will be from a larger bubble, a bigger snowball accelerating downward more quickly.  I don't think we are out of this crisis.  I think the markets are going to have a bumpy ride as the economy has a bumpier ride."
Join Greg Hunter as he goes One-on-One with three time best-selling author Nomi Prins.
(To Donate to USAWatchdog.com Click Here)
After the Interview: 
Prins is currently working on her next book.  She does not have a title, but a few of the things she will go into in detail are hard assets and what she calls the "Permanent Distortion" that the world will be living through for some time to come.
There is free information, articles and videos on NomiPrins.com.  You can buy any of Nomi's three best-sellers by clicking here and scrolling down.  You can find Prins' most recent best-seller "Collusion" at the top of the list.  There are several options to get the content of any of her books.