Massive Crimes Will Soon Be Revealed & Prosecuted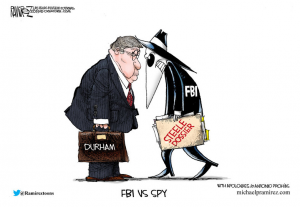 By Greg Hunter's USAWatchdog.com (Early Sunday Release) 
The FISA abuse report compiled by Inspector General Michael Horowitz is finished and will be released soon according to Dr. Dave Janda from the Operation Freedom radio show. The fraudulent FISA applications, using a phony dossier, made spying on the Trump Administration possible. Not long after the release of the IG FISA report, President Trump will declassify the documents surrounding the so-called "hoax" that he has repeatedly called "treason."
Janda also says there are massive crimes that are going to be revealed that involve data collection by President Obama's top intelligence chiefs. This data collection was ordered by Obama and involves 600 million pages of information on judges, business people and politicians, including the head of the FISA Court and Chief Justice John Roberts. The illegal data stash is information used for leverage and blackmail on possibly millions of unsuspecting Americans.
Join Greg Hunter as he lays out upcoming extraordinary events that will probably be happening in the next month.  (Program note:  Technical problems have postponed the video interview with DR.  Dave Janda.)
(To Donate to USAWatchdog.com Click Here)
After the Early Sunday Release:
World renowned geopolitical and financial cycle expert Charles Nenner will be the next interview.