Will The Real Estate Crisis Continue?

By Greg Hunter's USAWatchdog.com   
There has been some encouraging news about the real estate market recently.  In San Francisco, real estate prices shot back up 16% according to the Case-Shiller Index.  On the other coast, friends of mine in the New York City real estate business say price declines seem to be leveling off.  There has been plenty of talk that "now is the time to buy a house."  After all, the government will give up to an $8,000 tax credit if you purchase a home.  But what is the real story on the housing crisis?  Are we at or near a bottom?   
I rang up one of the best experts in the business, Yale Economics Professor Robert Shiller, to get an appraisal on where home prices are heading.  I first interviewed Shiller in fall of 2007 while I was at CNN.  I asked Professor Shiller, "If the housing crisis was a baseball game, what inning would it be?"  Shiller immediately said, "First."  Looking back, I'd say that was an accurate assessment of the crisis.  A little more than a week ago I started off, once again, by asking, "What inning are we in now?"  Shiller responded by saying, "Why don't we say fourth."  Fourth inning, meaning we have not yet even hit the halfway point.  I have to admit; even I thought we were further along than that.
So why is this crisis taking so long to unfold?  According to Shiller, the real estate boom that kicked off the new millennium is the biggest in history!  It was the first time real estate speculation was a global phenomenon, and it was very easy for the common man to play the market.  Shiller says, "It used to be that speculation in real estate was primarily land speculation, and it was kind of a special breed of person who would go out and buy 1,000 acres somewhere, you know.  But now, it's like everyone can play because it's your own house.  And so, it's created a national and international pastime of real estate speculation that's very easy to do." 
Shiller told me that he worries that prices may still fall further, even though prices have rebounded in some markets.  He says the banks are holding plenty of real estate off the market in an effort to keep prices stable.  But, many more houses will go into foreclosure, and that will be a big problem for the banks.   According to RealtyTrac.com a record 2.8 million homes in America were fooreclosed on in 2009.  Shiller says, "… they're going to find it hard to just sit on that.  And so, there will be more property on the market, and that may tend to bring home prices down again."   
There is another less tangible problem the banks are facing in this crisis.  The negative stigma associated with a default is fading away because of the bailout of the bankers.  (The bankers caused the ongoing financial crisis in the first place.)  Shiller says, "…what might make this worse is our moral compunctions against defaulting are eroding somewhat."  
Greg:  In other words, are people finding it less of a stigma to just throw the keys on the table and say, "that's it, I'm out"?   
Shiller:  Right, because they're thinking all these bankers are making a killing.  They got bailed out, you know, and now they're making huge salaries.  So, why should I worry about them? 
And, according to Shiller, even if interest rates stay right where they are now, real estate prices could still take another hit.
Shiller:  Even if they don't go up, I think there's a risk. We've had a 0% virtual federal funds rate for some time now when home prices were falling at that time.  
Greg:  Even if rates don't go up, you're saying that prices could still go down?   
Shiller:  Right.   
Take a look at the chart below which was put together at the end of November by real estate expert Michael David White.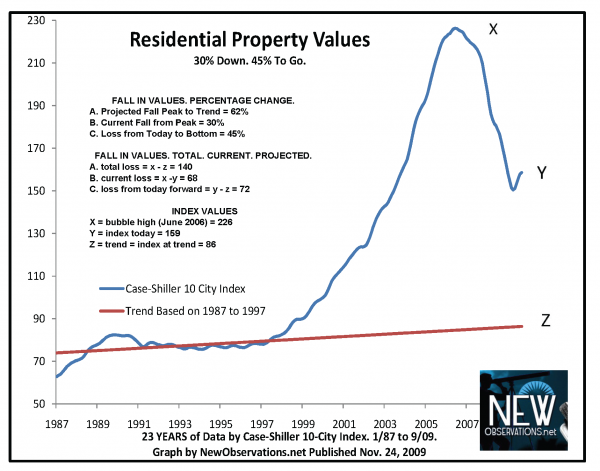 He used data from the Case-Shiller Index.  If White's calculations are correct, the market has at least 20% percent more to go on the downside.   I predict the market does not bottom until 2013.  Why 2013?  Check out my favoorite real estate chart below for the answer: