AZ Election Audit Continues, Biden Anti-Unity, Drought & Food Prices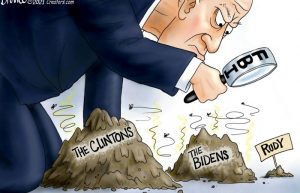 By Greg Hunter's USAWatchdog.com (WNW 477 4.30.21)
The Arizona 2020 Election audit in of 2.1 million ballots in Maricopa County, Arizona, is going to continue–for now.  Is the Biden gangster DOJ or FBI going to shut down the audit before the results are totally revealed?  Let's hope not, but if it does continue, I think it's going to reveal hundreds of thousands of fraudulent ballots and mistakes.  This, alone, will not put Trump back in office as the rightful winner of the 2020 Election, but I think Dem Senator Mark Kelly is toast and will be recalled by the Arizona legislature.
Vice President Biden, the illegitimate winner of the 2020 Election, gave a speech to a joint session of Congress.  Nancy Pelosi invited very few Republicans in what was billed as some sort of "unity" message for our deeply divided nation, where at least 51% (according to a recent poll) think Biden cheated to win the White House.  His address was some sort of crazy left wing expensive wish list that he is going to have trouble selling to some Democrat Senators.  He was also calling the Washington D.C. protests of the election fraud "the worst attack on democracy since the Civil War."  Biden, the drama king, is just stoking the continued attacks on Trump supporters and the GOP (not the RINO co-conspirators of the 2020 Election fraud).  Don't believe me?  Just ask former Trump attorney Rudy Giuliani, who was just raided by the DOJ in some trumped up investigation concerning more phony Russian interference narrative.
There is a new report out warning about big food inflation causing civil unrest.  Put that with the growing severe drought out west and you have the making of a full blown shortage and price spikes in food costs.
Join Greg Hunter of USAWatchdog.com as he talks about these stories and more in the Weekly News Wrap-Up for 4.30.21.
(To Donate to USAWatchdog.com Click Here)
After the Wrap-Up.
Hard hitting journalist Alex Newman, founder of LibertySentinel.org, who also works for The New American Magazine and The Epoch Times, will be the guest for the Saturday Post.  Newman is also the author of the popular new book called "Deep State."