Fed Still Working Against President Trump – John Williams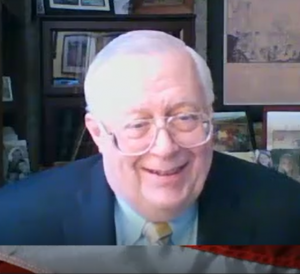 By Greg Hunter's USAWatchdog.com 
Economist John Williams says the Fed is still not in President Trump's corner when it comes to the economy. Williams contends, "The Fed was working against him (President Trump) on the economy, and they still are. Their primary concern is the banking system, and that certainly has to be supported, but when you have a weak economy, and this was fueled by the tightening of the Fed, I don't think Trump is going to get blamed for that. It's going to go against the Fed, and I don't think it is going to hurt him that much in the upcoming election.
Williams says the real numbers say the economy is getting worse and not better. Williams thinks "The Fed is going to feel pressure to cut interest rates .5%" and not .25% that Fed Head Jay Powell has been indicating. Williams also thinks the Fed is going to feel pressure to start a "new round of QE." Why? Williams says, "First of all, the economy is that weak. I am seeing it in the numbers, and I am sure they (Fed) are too. . . . The headline numbers that you hear are bloated, and they know it. . . . Construction spending is a lot weaker than reported. . . . So, we know the GDP is overstated. . . . They just reduced payroll employment . . . They overestimated payroll growth by 501,000. This eliminates 20% of the employment growth you have seen in the last year. . . . This also will be reflected in the GDP, and it will continue to get weaker. The Fed should be recognizing they have some bad numbers here. I think you are going to see retail sales numbers weaken. They will be out later this week, and also industrial manufacturing numbers will be weaker. They will be out next week. This is all before the FOMC (Federal Open Market Committee) meeting. The economy is weak enough that they've got to do something that will stimulate the economy by cutting more than a quarter point. There is a fair shot they go a half point (cut) and if not, they will be easing again soon. As things turn more negative, they are going to have to turn back to quantitative easing (money printing)."
Contrary to mainstream media propaganda, the tanking economy is clearly the Fed's fault. Williams points out, "When the Fed started tightening quarter after quarter, which started in 2017, and at that point, the interest rate was 1.5% for targeted Fed Funds. When we finished 2018 in December, they were up to 2.5%. The underlying interest rate there had been doubled in a year. That's not gradual and non-disruptive to the economy. It's very rapid and turned out to be very disruptive. . . . When they (Fed) said they were going to raise rates another couple of times in 2019, which is when the market crashed, that was around Christmas time, and then all of a sudden, they start backing off."
In closing, Williams says, "The Fed is not just working against the President. It is working against the interests of the American people. What the Fed was doing was in the best interest of the banking system, and the banks own the Federal Reserve. There's a conflict of interest right there. . . . . I think you are going to see that the downturn here is pretty bad. It's not just a little softening in the economy."
Join Greg Hunter as he goes One-on-On with economist John Williams, the founder of ShadowStats.com.
(To Donate to USAWatchdog.com Click Here)
After the Interview: 
There is lots of free information on Shadowstats.com. The report Williams is compiling from emails from USAWatchdog.com viewers on the condition of local economies as seen through the eyes of people at the street level will be published on the home page of ShadowStats.com for free in the next few weeks. If you want even more detailed reports that cut out all the accounting gimmicks to get an accurate picture of economic data, you can become a subscriber by clicking here.