JP Morgan Will Stop Shorting Silver – Craig Hemke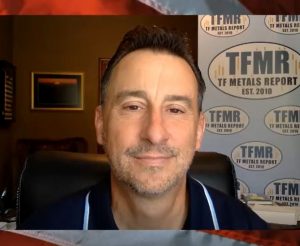 By Greg Hunter's USAWatchdog.com
(Corrected)
Financial writer and precious metals expert Craig Hemke has predicted for the last year and a half that "high demand coupled with low supply will unlock the price of precious metals."  Nowhere has that prediction been more on target than in the gold price.  This year, it looks like gold prices will continue to climb with the doubling of Fed debt on its balance sheet, and massive stimulus from Congress to fight the virus lockdown.  Hemke explains, "A key driver here is the Fed policy that is going to lead to a 1970's style of stagflation. . . ."
Now come supply shortages in the rigged metals markets and a reason to end short selling by a big bank.  Hemke contends, "The abuse of the markets was so extreme that in the first 15 days of March of this year, they did 290 thousand gold contracts (at 100 ounces per contract).  That's 900 metric tonnes this way in just the first 15 days of March.  Then, boom, everything collapses.  Here comes the Fed with QE (money printing) to infinity.  The mints are closed.  The refineries are closed.  There is no gold anywhere.  The spread explodes to $100.  There are articles written that say HSBC lost $200 million in a day . . . and massive losses because they got caught with no physical gold. . . . Everybody is showing up now and demanding delivery from COMEX.  They are having to fly in metal from everywhere to try to make it look like it's working. . . . So, now, these banks, like JP Morgan, which were able to control the market by issuing these shorts and calling it a hedge, are now being called to deliver."
So, demand for gold delivery is exploding, and that is a big reason for the upward price pressure.  What about silver?  Why is it lagging behind gold?  It takes nearly 100 ounces of silver to equal 1 ounce of gold.  That ratio is going to start coming down dramatically, and Hemke explains why, "JP Morgan has been accumulating all this silver and shorting against it as a hedge, managing the price and monopolistically controlling it.  Now, the COMEX is a delivery vehicle, and people were standing for delivery.  JP Morgan was short nearly 6,000 contracts (of silver) on delivery day, and JP Morgan had to deliver (29 million ounces of physical silver).  In doing so, they have now reduced their stockpile down to 120 million ounces of physical silver. . . . Now. JP Morgan is left with a dilemma.  They can continue to play this game of shorting or hedging . . . and run the risk of losing another 8,000 to 10,000 contracts (at 5,000 ounces per contract) and see that stockpile of physical silver get cut again.  Or, they can stand down and stop shorting.  Either way, they are in a jam. . . . If they keep shorting while there is increasing demand for delivery, they are going to lose it all, and once they lose it all, they won't be able to issue anymore contracts.  This is going to allow the price (of silver) to go up.  If they simply stop shorting, once again, the price of silver goes up. . . . JP Morgan may not have a choice but to stand down. . . . The demand is going to continue to grow. . . . JP Morgan will make $120 million for every $1 silver goes up. . . . I think they have to stop interfering with the market.  When JP Morgan stops shorting silver, you are going to get the change to the question of why is silver not going up?"
Hemke says there will come a time in the markets when there will be no sellers of physical gold or silver.  Then, Hemke says the price will skyrocket.
Join Greg Hunter of USAWatchdog.com as he goes One-on-One with Craig Hemke of TFMetalsReport.com.
(To Donate to USAWatchdog.com Click Here)
After the Interview: 
There is some free information on TFMetalsReport.com. If you want to subscribe, use the promo code "Hunter" and get your first month half off.
 This segment is sponsored by Discount Gold and Silver Trading. Ask for Melody Cedarstrom, the owner, at 1-800-375-4188.