Strzok Testifies/Fights, Trump NATO/EU, Economic Warning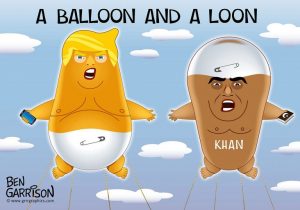 By Greg Hunter's USAWatchdog.com (WNW 343 7.13.18)
Trump hating FBI agent Peter Strzok testified in front of Congress this week. Strzok tried to explain many uncovered Trump hating text messages to his girlfriend Lisa Page, but GOP lawmakers were not buying his excuses.  Republicans skewered Strzok while Democrats came to Strzok's defense.  Strzok helped clear Hillary Clinton in the FBI email investigation of security breaches on her unprotected server.  Looks like the Democrats were protecting the person that protected Hillary from being charged with multiple obvious felonies.
Donald Trump is in Europe meeting with NATO and raking some of them over the coals for not spending enough on defense. One big target was Germany, who is not spending much on its military.  Trump also criticized Germany for doing a multi-billion dollar pipeline deal with Russia.  Trump pointed out how Germany was allowing the USA to protect Germany from the Russians, who they are doing an energy deal with.  Trump is also meeting with Vladimir Putin while abroad.
A Wall Street legend is warning of another market meltdown and sounding the alarm of a "perfect storm." Jim Millstein is worried about record poor quality debt with corporations.  Millstein says this is the same sort of set up for the 2008 meltdown, only with much more debt that will likely not get paid back.
Join Greg Hunter as he talks about these stories and more in the Weekly News Wrap-Up.
(To Donate to USAWatchdog.com Click Here)
After the Wrap-Up:
CIA whistleblower Kevin Shipp will be the guest for the Early Sunday Release.