Trump Makes News, Collusion Hoax Unravels, Economic Update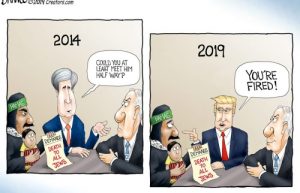 By Greg Hunter's USAWatchdog.com (WNW 383 5.10.19)
President Trump gave an impromptu press conference today after some announcements on what his Administration plans to do to combat spiraling healthcare costs. He laid out the trade dispute with China, talked about North Korea missile testing and accused John Kerry of illegally meddling with Iran.
Also, in the press conference, President Trump was asked about his son's subpoena to testify to the Senate on the debunked Russia tower meeting that was set up by Democrat opposition research group Fusion GPS. This group helped write the now totally phony "Russian Dossier" paid for by Hillary Clinton and the DNC. President Trump pointed out the so-called Russia collusion "hoax" that is unraveling more every day. It's looking more and more like treason, which I have been saying for a couple of years. Trump and his supporters want to know how the "hoax" started and who's going to take the blame? Trump did this all without the use of a teleprompter and zero notice. Even the press seemed to ask respectful questions that seemed honest for a change.
Everybody says the economy is doing great, but is it really? The yield curve is inverting, and a very big European bank is flashing a warning sign again.
Join Greg Hunter from USAWatchdog.com as he talks about these stories and more in the Weekly News Wrap-Up.
(To Donate to USAWatchdog.com Click Here)
After the Wrap-Up: 
Former firefighter Mark Taylor is going to be the guest for the Early Sunday Release and gives us an update on his popular book "The Trump Prophecies." The book has been updated and expanded. Taylor will weigh in on current events.
For a Free audio only download of the Weekly News Wrap-Up 5.10.19 click here.