Trump Preparing Public for Justice – Mark Taylor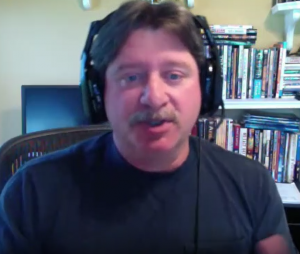 By Greg Hunter's USAWatchdog.com (Early Sunday Release)
Mark Taylor, author of the popular book called "The Trump Prophecies," predicted there would be "military tribunals" the day after Trump was elected to the Presidency. Now that the Mueller report is finished, President Trump is using words like "treason" and "failed coup" in describing the Deep State efforts to remove him from office. President Trump accused former Secretary of State John Kerry last week of breaking the law in meddling with Iran. It is looking like the rhetoric is heating up, and tribunals are becoming more of a reality. Taylor says, "I am going to say about a month ago, Trump came out and used the word 'treason' for the first time. The very next day, his press secretary came out and talked about treasonous acts. Trump is preparing the public for what is coming. If you don't have a stomach for justice, you better get one quick. Justice is here, and it is not going to be pretty when this stuff goes down. I think Trump is trying to prepare the public and trying to make the case that these guys are committing treasonous acts, and don't be surprised when you see these guys doing a perp walk."
In one of Taylor's prophecies, "Time is up for those who are corrupt," he predicts even former President Barak Obama will be charged in the "Trump coup" scandal. Taylor explains, "If this President (Obama) is charged with treason, he will be stripped of the title of the presidency. Therefore, that part of the prophecy will come to pass. I believe he will be stripped of it."
Taylor also says, "These guys who are corrupt, and I don't care if you are a Republican or a Democrat, I don't care who you are, and even if you held the highest office in the land, you will be held accountable and God will take you down. From a spiritual standpoint, I believe God gives every person on this earth a chance to repent and turn the other check and be forgiven for what they have done, but that is not going to stop justice from being served. Justice is on the earth right now and it is going to be served—period. I think these guys know it, and they are in full blown panic mode in Washington D.C.  You also have to keep in mind the width, length and depth of this is global. This is not just about setting America free. This is about taking down the entire Luciferian reign that has been in control of the earth for centuries."
In closing, Taylor says, "I don't know the timing of this, but I sense we are on the cusp of a lot of big stuff happening because of the FISA report coming out. Justice is pouring down on the earth. This is why I am warning about the false flag stuff . . . these guys are panicking, they are going to do anything and everything they can to change the narrative and keep the focus off of them."
Taylor also asks the question, "Are there indictments for the media? I think absolutely yes, and it's part of the tearing down process. I think you are going to see some of these people go to prison for what they have done."
Join Greg Hunter to talk with former firefighter Mark Taylor, author of the popular book "The Trump Prophecies," which is newly updated and expanded.
(To Donate to USAWatchdog.com Click Here)
After the Interview: 
All of the latest Mark Taylor prophecies are free and you can click here to get them.
If you want to buy a newly updated and expanded version of "The Trump Prophecies" click here.