WNW 188-US Naval Tensions Mount, No Growth Economy, Baltimore Spreading, Jade Helm Joke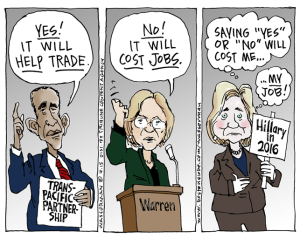 By Greg Hunter's USAWatchdog.com  (5.1.15)
Looks like, for once the U.S. and Iranian Navies may be inching towards confrontation. It was announced that the U.S. Navy will be escorting U.S. flagged ships through the Strait of Hormuz. This came after an erroneous report that the Iranians had boarded a U.S. flagged ship. The Hormuz has 35% of the world's seaborne oil shipments. The U.S. Navy intercepted some Iranian cargo ships last week heading to Yemen. They turned around, and now the U.S. carrier group has also left the area. The Saudis are fighting to remove terrorists that are partial to Iran. There is no end in sight with the fighting, and the Saudis are not allowing flights to land to resupply the Houthi (Shia) rebels. There is a Sunni coalition that is enforcing an air and sea blockade.
The first quarter GDP numbers are in, and they were dismal. As I have said, many times, there is no recovery. The first quarter so-called growth came in at a paltry .2% growth. This is not growth. If you factor in any sort of inflation, then you really have a contracting economy, not a growing one. If the Fed is not going to increase rates, it may be forced to inject another round of QE, or money printing? We will see as the year unfolds, but I am not seeing a rate increase anytime soon, and that is what the Fed basically said at its meeting this week.
Do you think Baltimore and Ferguson are really about police brutality or a stinking economy especially for the lower ranks in this country. I said this is why the President sent Al Sharpton to Ferguson, Missouri, and I think this is at the core of the problems in Baltimore. The unemployment rate in the African American community is at least double of that in the white community, and black youth unemployment is staggering. The Obama Administration knows this and does not want to address the real issue, and that is falling wages and massive offshoring of American Jobs.
Here is an article in the St. Louis paper about the Trans Pacific-Partnership, or the TPP. People hate it or love it, and it is all being negotiated in secret. Dems are not going to jump on board, and some Republicans hate it too. It would allow the President to negotiate a deal, but some say it should not be done in secret, and it should not supersede our national laws. Also, it will give the President sole power to negotiate a deal, and you can see how well he has done with the Iran Nuke deal. I rest my case.
The White House press corps got a good laugh this week over Texas Governor Greg Abbot putting his state national guard to watch the upcoming military exercise Jade Helm. Abbot is worried about his citizens' sovereignty, but the White House says it's just a military drill and there is nothing to worry about. Many folks speculate that this is just a dress rehearsal for martial law because the economy might implode. Abbot is not a kook and was a former Texas Attorney General before he was governor. If I was in the White house press corps, I would ask why the name Jade Helm 15. They just did not pick those names at random like basketball kangaroo. I would also ask why the creepy slogan for Jade Helm–it's "Master of the Human Domain." Please explain that, Josh Earnest, and try not to laugh too much.
Join Greg Hunter as he talks about these stories and more in the Weekly News Wrap-Up.