Could U.S. Dollar take Big Hit by Summer?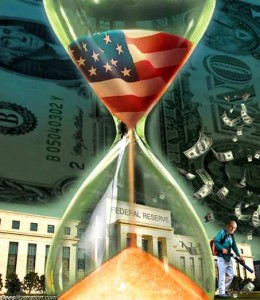 By Greg Hunter's USAWatchdog.com 
There are plenty of reasons why the U.S. dollar is under downward pressure.  There have been massive bailouts of the global banking system by the Federal Reserve, exploding deficits and a movement globally to move away from doing business in dollars.  Now, there is a new threat, and it is being pushed by U.S. foreign policy with Iran.  Iran's financial institutions are being shut out of the international banking system known as SWIFT (Society for Worldwide Interbank Financial Telecommunication).  The U.S. State Department is threatening other nations that trade with Iran with the same punishment.  Ten countries, including the powerhouse economies of India and China, are in the crosshairs of SWIFT if they don't dramatically cut Iranian oil imports by summer.  
A Reuters report, last week, said, "If a country doesn't prove it's making the necessary reductions by the end of June, any institution in that nation that settles petroleum trades through Iran's central bank will be cut off from the U.S. banking system."  (Click here for the complete Reuters report.)  No one, but Jim Sinclair of JSMineset.com, has picked up on the possible grave implications this action could have on the U.S. dollar.  Sinclair said, last week, "This is terribly ill advised and poorly timed. It smells like a threat of selective lockout via the Swift system.  At a time when the US dollar is sundering as the major international settlement mechanism this is the last thing that dollar managers should consider. Whoever came up with this idea has no appreciation of two points – the weakness of the Western financial system and whatever weapon of war will be used in kind.  The major financial weakness in the US is the level of the US dollar due to sundering use in international contract settlement, the clear and present trend of substituting both the Yuan and Euro as international settlement currencies, and the lack of true economic buyers in the US long bond market.  History will record this decision at this time as a major factor in the final move to financial unwind in the West."  (Click here for the complete JSMineset.com post.) 
Sinclair thinks this is extremely dollar negative and gold positive.  This is not some idle comment by a crackpot on the Internet.  Sinclair is a renowned market expert with special expertise in the gold arena, and he has a track record to back it up.  I did some research on a few of Mr. Sinclair's biggest gold market calls, last June, in a post titled "Print More Money."   I said, "You should not take Sinclair's predictions lightly.  In 2002, he predicted gold (priced at around $350 an ounce) would trade at $1,650 an ounce by January 2011.  Today, it is well over $1,500. (Gold hit $1,900 last year and fell back to near $1,700 today.)  In 1974, (the average price that year was $159 an ounce) Sinclair predicted gold would top out at $900 per ounce in 1980–it hit $887.50.  Sinclair says, "If QE is even slowed down, the net result would be a public loss of control on the part of what is seen as the U.S. economic management." So, he expects gold will rise because the powers that be will print more money."  
Sinclair is predicting gold will hit $12,500 per ounce after 2015.  With what's going on with SWIFT and Iran, this prediction seems a lot less farfetched.  (For 10 other reasons why the dollar is in trouble, click here for a new story from The Economic Collapse.)