A Illustration of the Recovery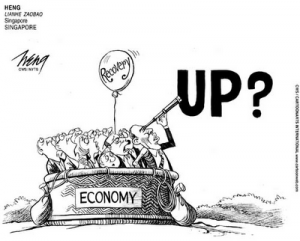 By Greg Hunter's USAWatchdog.com  
This week I wrote a post about the announcemment of the recession being over.  Of course my post (Is the Ression over?  Don't bet on it!)  clearly gave reasons why it is NOT over by a country mile. This story from Reuters on Friday is confirmation we have a long way to go.
By Leah Schnurr
NEW YORK (Reuters) – U.S. stocks fell on Friday after disappointing results from General Electric Co (GE.N) and Bank of America Corp (BAC.N) demonstrated the road to economic recovery will be bumpy.
GE, which sells products from aircraft engines to refrigerators, reported a 20 percent drop in revenue, while Bank of America posted a $1 billion loss as both struggled with still meager business and consumer spending.  
"As you came into the third quarter there was hypersensitivity to the quality of topline growth," said Michael Feser, president of Zecco Trading in New York.
"Investors are linking that to the economy, trying to determine if these are quality earnings that are being reported and does it spell a solid economic recovery?"
Friday's results contrasted sharply with those of JPMorgan Chase & Co (JPM.N) and Intel Corp (INTC.O) earlier this week, which breezed past Wall Street forecasts and helped the Dow to close above 10,000 for two straight days.  (more from Reuters)