Absolute Interference Documentary by Mike Lindell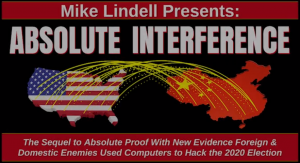 By Greg Hunter's USAWatchdog.com
Nobody is doing more to reveal and draw attention to the massive election fraud of 2020 than My Pillow CEO Mike Lindell.  His second documentary on this profound national security disaster is brought out in "Absolute Interference."  If you want to be informed, this is a must watch video.  This is a free download that I am running to help draw attention to an issue that affects all Americans here on USAWatchdog.com.  This is a 2 hour documentary packed with information about how the 2020 Election was hacked by foreign players.
Most people do not know of the special report that Director of National Intelligence (DNI) John Ratcliffe dropped just a few days before the end of the Trump Administration.  One headline reads: "Bombshell Report: China Interfered In the 2020 Federal Elections."  Lindell is on solid ground, and a government report comprised of information from 17 of America's intel agencies backs up Lindell's "Absolute Interference."  There are many experts featured in this 2 hour documentary including Lt. General Michael Flynn, former head of the Defense Intelligence Agency (DIA) at the Pentagon.
With the ongoing audit of election fraud in Arizona, this new documentary is more relevant than ever. Enjoy the very enlightening and educational show.
(To Donate to USAWatchdog.com Click Here)
After the Documentary: 
(Greg Hunter and USAWatchdog.com get $0 compensation from Lindell or My Pillow.  Some of the money from sales, no doubt, goes to continue the election fraud exposure hosted on Lindell's social media platform called "Frank."  Lindell is funding all of this effort out of his own pocket.)