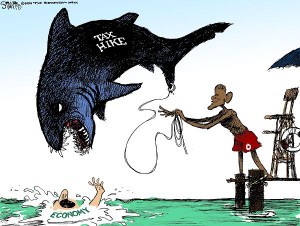 By Brian Sussman
Guest Writer for Greg Hunter's USAWatchdog.com 
I love working in talk radio; the audience is so smart it's scary.
President Obama's 2010 budget had just been released, when, at the conclusion of a broadcast, a passionate caller named Madeline told me about the backdoor tax increase contained in our nation's financial plan.   
"I'm a professional economist," she said.  "The Bush tax cuts from 2001 are set to expire at the end of this year.  Taxes are going to increase for most Americans, not just the so-called 'rich.'  Brian, can I email you a breakdown of the numbers?  You've got contacts—you've got to get this stuff out to as many people as possible so we can stop this budget from going forward."
Madeline is right-on.  The Bush administration's Economic Growth and Tax Relief Reconciliation Act of 2001 lowered individual tax rates, slashed taxes on capital gains and dividends, and steadily scaled back the estate tax to zero this year.
If the provisions are allowed to expire on December 31, the top-tier personal income tax rate will rise to 39.6 percent from 35 percent. However, lower-income families will pay more as well: the 25 percent tax bracket will revert back to 28 percent; the 28 percent bracket will increase to 31 percent; and the 33 percent bracket will increase to 36 percent. The special 10 percent bracket is eliminated.
Investors will pay more on their earnings next year as well, with the tax on dividends jumping to 39.6 percent from 15 percent and the capital-gains tax increasing to 20 percent from 15 percent.
Madeline promptly followed through with the email.  Here's what she wrote:
On Tuesday, January 26, 2010, the Congressional Budget Office (CBO) released their revised budget forecast for the next decade.  What was peculiar in their analysis was that beginning in 2011, federal revenue takes a gargantuan leap of $500 billion, or almost 25% of current federal revenue from all sources, individual and corporate.   As a result, budget deficits are projected to decline proportionately.  When you read the details of the CBO report, however, the spectacular increase in revenue is almost entirely due to the expiring provisions of the Bush tax cuts.
Details of the discussion can be found in the following CBO document starting at page 75:  http://www.cbo.gov/ftpdocs/108xx/doc10871/01-26-Outlook.pdf
If the Bush tax cuts expire and there are no changes to the Alternative Minimum Tax (AMT), the CBO projects that revenue for fiscal year 2011 (beginning October 2010) will jump from $2.18 trillion to $2.68 trillion.
The CBO also unrealistically projects that revenues are expected to grow faster than GDP in 2011 and 2012 because strong economic growth usually translates into rapidly rising wages and salaries and rapidly appreciating assets.  Also, the recession led to a temporary acceleration of tax payments because taxpayers were slow to adjust withholdings as liabilities fell.  Payments in 2011 and 2012 should return to normal. Finally, the unexplained recent weakness in taxes will gradually reverse.  All of the above sound good on paper, but are by no means guaranteed.
The CBO projects that federal revenues will rebound sharply relative to GDP in 2011 due to a sharp increase in individual income tax revenues. Individual income tax receipts account for four-fifths of the projected increase in total revenues relative to GDP over the next 10 years.  Almost half of the increase in those receipts will come from the expiration of a host of tax provisions.  The other half will come from a projected healthy economic recovery.
Individual income tax receipts are expected to surge by 33% in 2011 and an additional 14% in 2012.
Expiration of higher exemption amounts for the AMT in 2010 will raise tax receipts by capturing an additional 27 million Americans who will be subject to increased tax liabilities.  To put that number of Americans in perspective, currently only 4 million taxpayers are subject to the AMT.  Tax receipts from the AMT are expected to rise from $40 billion in 2010 to $103 billion in 2011.
The expiration of the Bush tax cuts will increase receipts due to tax increases on ordinary income, capital gains, and dividends, as well as a contraction of the tax brackets and standard deductions for joint filers to less than twice those for single taxpayers.  In addition, there will be a smaller child tax credit and the end of the Making Work Pay tax credit.
The CBO document makes for interesting reading, not for what it says, but for what lurks in between the lines.  If the Republicans seize on the opportunity to thwart the biggest tax increases in recent history NOW, they can possibly save the American public from crushing taxation and stymie economic growth.
In Madeline's on-the-air remarks she rightly stated that the 2010 election cycle can stop this backdoor tax madness, if true conservatives are elected and take back the House and Senate.
This is critical. In 2011, the next congress can vote to immediately retroactively extend the Bush tax cuts. Then, hopefully, Obama will decide that being a one-termer is not in his legacy's best interest, and he (and the rest of the slapped-upside-the-head Democrats) will be forced to deal with the ballooning deficit, rather than sweep it under the rug.
By the way, Madeline also noted that if the tax increases are blocked and expenses not curtailed, the deficit will balloon to $1.48 trillion in 2011, not $980 billion as currently estimated.
The last thing the American taxpayer needs is a huge tax increase.  The government must cut expenditures for the United States to survive and prosper.
Brian Sussman hosts the top morning radio talk show in the San Francisco Bay Area on KSFO-560AM.  His book, "Climategate: A Veteran Meteorologist Exposes The Global Warming Scam," will be released April 22.