Bank Ratings Keep Slipping Away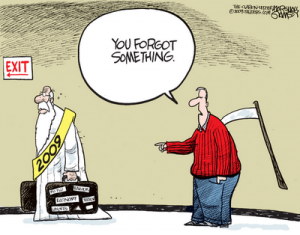 By Greg Hunter's USAWatchdog.com 
I was checking the financial health of my local bank and discovered that it had slipped to a (C-) rating.  Not more that three years ago, this bank carried a solid (A) rating.  The ratings I am talking about come from TheStreet.com.  The top rating is (A) or "Excellent" next (B) or "Good" followed by (C) for "Fair" then (D) meaning "Weak" and finally (E) for "Very Weak." Checking your bank is a free service provided by TheStreet.com and other sites.  I have been checking banks for friends and family for years.  This free service will allow you to quickly track the trend of your bank.  A drastically declining rating is not the trend you are looking for when choosing a safe place to save your money.
The information in TheStreet.com and other bank rating web sites comes from the government.  The latest figures are from June 30, 2009.  Even though the information is six months old, I thought I would take a layman's look into the banking status of America.  Let's start with California.  The state has only six (A) "Excellent" rated banks as opposed to 125 (D) or (E) "Weak" or "Very Weak" institutions in the Golden State.  The world's eighth largest economy has just six "Excellent" banking institutions!
Over on the other coast, I checked Connecticut, one of the richest states per capita in the Union.  It had just two (A) rated banks.  A few years ago, I was looking up (A) rated banks in Connecticut for a friend of mine and found nearly ten.  Again, that number is now down to just two.  There are ten "Weak" or "Very Weak" banks in that state.
In North Carolina, it's the same story for slipping bank ratings.  A few years ago, there were more than ten (A) rated banks according to TheStreet.com.   Now there is just one bank with the highest rating!  On the other end of the spectrum, there are 35 "Weak" or "Very Weak" banks in the Old North State.
The number of "Weak" banks out there is probably not a surprise to FDIC Chief Sheila Bair.  In November she said, "We do obviously have a lot more banks that will close this year and next…" Bair is also predicting the bank failures will "peak" in 2010 and then "subside." I guess that's why the Federal Deposit Insurance Corporation recently announced it is hiring 1,600 new workers.  But if the banking failures are going to peak in 2010, then by the time these folks get hired and trained, the crisis will be over.  I think the FDIC sees banking failures going on a lot longer than just 2010.  If the problem goes into 2011 or 2012, then the FDIC is hiring right on time to take care of a huge problem over the next few years.
Some say the FDIC is unofficially becoming a modern day Resolution Trust Corporation.  The FDIC will fold failed banks the same way the RTC did in the Savings and Loan crisis in the early 90's.  This time, I fear the insolvency problem will be much bigger.  I added up all the "Weak" and "Very Weak" banks on TheStreet.com list and came up with 1,385 troubled banks in the U.S.  Mind you, the information used to determine these ratings is six months old.  The trends for residential and commercial real estate have not been positive, quite the contrary.  So, no doubt, the situation for the banks is getting worse not better.
Back in November, the FDIC claimed there were only 552 "problem" banks.  I wrote in depth about the trouble the FDIC is having in a post called "The FDIC Is Way Beyond Broke." I suspect the "problem list" is at least two or three times larger.  My crude analysis would not impress banking experts, but it is not supposed to.  I just want to give ordinary people a way to at least check their bank and take action if it is "Weak."
My two favorite sites for checking banks are TheStreet.com "financial strength ratings," (Click here for the link) and for folks who like a little more detail, use Bankrate.com "Safe and Sound" ratings.  (Click here for the link) Bankrate.com uses a five star rating, with five stars given to the very best banks.  I like to compare their ratings against TheStreet.com to get the most accurate picture of a bank's health.  You can also use Bankrate.com to check a credit union.  By and large, credit unions have had a lot less insolvency problems.
The mainstream media has been talking about "green shoots" and calling an "end to the recession."   Quite simply, the recession cannot be over until banking failures are finished.  Please take the time to check your bank and protect your savings.  As for what I will do with my (C-) bank?   New bank ratings should come out this month and, if it falls, I will be moving my money.