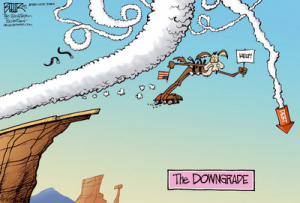 By Greg Hunter's USAWatchdog.com
Something a little different today.  I have three videos for you to watch.  The first features a guy named Eddie Hobbs.  He is a financial planner and expert from Ireland.  In recent weeks, some of my stories have indicated there could be bank runs in the EU.  Last week, Mr. Hobbs confirmed the wealthy are indeed taking money out of EU countries with sour sovereign debt.  It seems folks here on financial TV are oblivious to this phenomenon, but what would you expect the wealthy to do?  Moving your money to safety is perfectly logical, and I think dangerous to some banks teetering on insolvency.  The implications of what Hobbs is saying are ominous.  The interviewers are in disbelief and denial.  Please watch this until the end.
The next video is slated this way, "The European Fiscal Crisis and Lessons for America."  The video says, "Many European welfare states have been caught in a downward spiral of taxes, spending, and debt. This mini-documentary from the Center for Freedom and Prosperity Foundation identifies key lessons for policymakers seeking to avoid the inevitable fiscal crisis caused by the welfare state."  If you are a fan of Herman Cain's "999 plan," you won't be after watching this.  This is simple, well done and insightful.
Finally, let's have some fun and watch a vidoe called "Damn it Feels Good to be a Banksta."  The title says it all.  Enjoy!!