China Virus Treatments Coming, Economic Damage Done, Ponzi Ending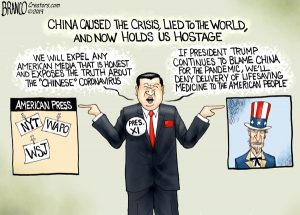 By Greg Hunter's USAWatchdog.com (WNW 423 3.20.2020)
Looks like there is good news to report on effective treatments for the "China Virus" coming to the public. One is in the form of the anti-malaria drug — Chloroquine. It has been scientifically proven to be effective in treating this virus. There are also a few others, and President Trump is cutting red tape at the FDA to get them approved fast.
Now the bad news. The financial damage done by the China Virus is increasing and is not reversible. Layoffs are increasing, and businesses are going bust. Now, the Governor of California, Gavin Newsom, is telling people to shelter-in-place until further notice. Top money manager Ray Dalio says the world could lose $12 trillion because of the China Virus.
I use to say the pretending is ending when it come to our Ponzi economy propped up by fraud, crime and money printing. Now, I say the pretending has ended. Trillions will be lost, and many trillions will not be paid back now that the biggest debt bubble in history has popped.
Join Greg Hunter of USAWatchdog.com as he talks about these stories and more in the Weekly News Wrap-Up.
(To Donate to USAWatchdog.com Click Here)
After the Interview:
Egon von Greyerz of GoldSwitzerland.com will be the guest for the Early Sunday Release. He will talk about how hard times are guaranteed now that the biggest debt bubble in history has popped and the world financial system is bankrupt.
This segment is sponsored by Discount Gold and Silver Trading. Ask for Melody Cedarstrom, the owner, at 1-800-375-4188.