Comey the Leaker, Trump the Winner, Debt and Stock Market at All-Time High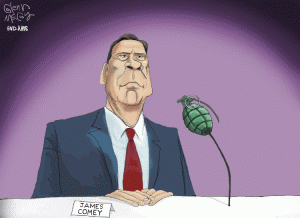 By Greg Hunter's USAWatchdog.com (WNW 287 6.9.17) 
Fired FBI Director James Comey made a stunning revelation this week in Congressional Hearings about the so-called Russian collusion investigation. Comey outed himself as a leaker of privileged information when he released a personal memo to the New York Times that implied Trump tried to interfere with the investigation into alleged Russian ties to the Trump campaign.  Comey admitted to leaking the memo in order to force a Special Prosecutor to be appointed.  Did Comey break the law?  Donald Trump's lawyer, Marc Kasowitz, was featured in a headline that said, "President Trump's Lawyer: 'Leaker' Comey 'Retaliatory' in 'Unauthorized Disclosures' to Press of 'Privileged Communications with the President.' " Also, as part of a very bad week for Comey, he is facing a new lawsuit that claims "FBI Illegally Spied on Government & Trump."
Meanwhile, Comey claims he was fired because of the Russia investigation, but Comey repeatedly said that Trump was not the target of the investigation. Comey also repeatedly said that Trump did not obstruct the investigation.  You can't have it both ways.  Comey can't testify that there was no obstruction, and then leak information to get a Special Prosecutor appointed to look into obstruction.  Now, even the mainstream "Destroy Trump" media is backing off.  Chris Matthews says the so-called Russian/Trump collusion story "came apart" with the James Comey testimony.  Comey should hire a criminal defense lawyer.
We have a record stock market once again at the same time the world has record debt. Most of the debt is simply unpayable.  Maybe this is the reason why multi-billion dollar money manager Paul Singer is "very concerned."  Singer said on Bloomberg this week, "What we have today is a global financial system that's just about as leveraged, and in many cases more leveraged, than before 2008."  You might remember that 2008 was the last time the financial markets had a major meltdown that required the Fed and every central bank in the world to come to the rescue with trillions of dollars in bailout money.  What could go wrong?
Join Greg Hunter of USAWatchdog.com as he talks about these stories and more in the Weekly News Wrap-Up.
After the Wrap-Up:
Gregory Mannarino founder of TradersChoice.net will give us his take on the new all-time highs in the stock market while there is all time high debt. Mannarino is the featured guest for the "Early Sunday Release."
(To Donate to USAWatchdog.com Click Here)