Dem Attacks Continue, Dems Desperate, China Virus Chaos Coming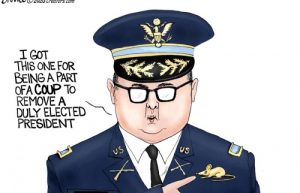 By Greg Hunter's USAWatchdog.com (WNW 419 2.14.2020)
The Democrat attacks on President Trump continue with what appears to be a much more intense volume. This includes the mainstream media (MSM), which we all realize is nothing more than socialist Democrat New World Order Globalist propaganda. Why the intensified attacks? They are afraid of losing their power, kickback scams and freedom because some of them are going to jail for their crimes and hoaxes to remove a duly elected President from Office. Nothing is working to dump Trump. Trump is now beginning to fight back on all sorts of levels including mass firings of Obama holdovers at the White House.
Dems are desperate after the Iowa and New Hampshire primaries. They don't have a leading candidate that can beat President Donald Trump. They are also afraid of Bernie Sanders because he threatens the crooked establishment. If they screw him out of the Democrat nomination again, look for a huge split in the party which is to Trump's advantage.
The Wuhan Coronavirus is bringing China to its knees in terms of business activity. The economy and its exports are in the process of grinding to a halt. How is that going to play globally? Are debts going to be defaulted on? Can the Fed continue to save the day? Is China's brutal communist regime finally going to be exposed for what it really is? All the answers are not good, and you should brace for impact no matter what the lying MSM is telling you.
Join Greg Hunter as he talks about these stories and more in the Weekly News Wrap-Up.
(To Donate to USAW Click Here)  (Up-Date: This video is now fully monetized, but not until after thousands of views with no commercials or very long commercials.   Enjoy!)
After the Wrap-Up:
Update:  Former CIA Officer and whistleblower Kevin Shipp's interview has be rescheduled.   Michael Pento will be the guest for the Early Sunday Release.