Did the Mainstream Media Blackout Wall Street Protest?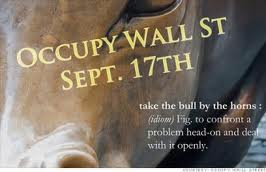 By Greg Hunter's USAWatchdog.com  Have you heard about the Wall Street protest in lower Manhattan called "Occupy Wall Street"?  It started Saturday, and it basically is a protest against greed and corruption in the financial markets. The Wall Street protests really haven't gotten much attention from the mainstream media (MSM).  I wouldn't call it a media blackout, but it sure looks gray to me.  Organizations such as Forbes, CNN and ABC have covered the protest that was still going on yesterday.  Saturday was the opening day, and that was the biggest turnout.  (Click here to view coverage from CNN.)   It was reported by the MSM that only "hundreds" turned out.  Here's a picture (lower left) from a FOX News story that, appears to me, was written off a CNN story.  This picture would make you think that nothing much was going on.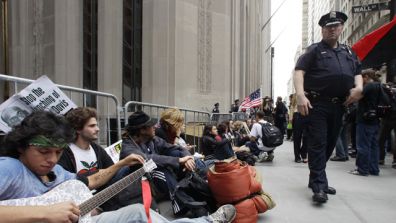 A friend of mine from Brooklyn told me that the coverage locally was pretty light.  Yet, this is a story where reportedly the NYPD arrested nearly a dozen people, and traffic snarled for a few hours.  Monday, the International Business Times reported a much different story than American media.  It said, "When the protest [Wall Street Protests] began over the weekend, several thousand showed up in New York's Financial District, protesting with signs like "JUST BECAUSE WE CAN'T SEE IT DOESN'T MEAN IT'S NOT HAPPENING" and "WALL STREET IS OUR STREET."  Wall Street and the New York Stock Exchange weren't open when the largest crowds kicked off the movement over the weekend. By Monday, the group's numbers were smaller, but the presence of protesters led New York Police to barricade blocks around Wall Street and the New York Stock Exchange, forcing residents and workers to show identification to enter the zone.  The group has said it plans to turn Lower Manhattan into an "American Tahrir Square." (Click here for the complete IBTimes.com story.) A story from RT.com (formerly Russia Today) also told a different story, and this one came with video.  See if you think this was just an insignificant story that didn't merit local or national coverage. This is also being called "a day of rage," but it overwhelmingly is a peaceful protest.  The OccupyWallSt.org website touts "the use of nonviolence to achieve our ends and maximize the safety of all participants. . . . The one thing we all have in common is that We Are The 99% that will no longer tolerate the greed and corruption of the 1%."  The site was also offering "free pizza" to encourage participation.  It looks like the protesters are going to be there for a while.  This was the message yesterday from the Occupywallst.org website, "We're still here. We intend to stay until we see movements toward real change in our country and the world. This is the third communiqué from the 99 percent.  Today, we occupied Wall Street from the heart of the Financial District. Starting at 8:00 AM, we began a march through the Wall Street area, rolling through the blocks around the New York Stock Exchange. At 9:30 AM, we rang our own "morning bell" to start a "people's exchange," which we brought back to Liberty Plaza. Two more marches occurred during the day around the Wall Street district, each drawing more supporters to us. . . . Food has been donated to the plaza from supporters all over the world. Online donations for pizza, falafels, and other food are coming in from supporters in Omaha, Madrid, Montreal, and other cities, and have exceeded $8,660. . ." (Click here for the OccupyWallSt.org site.) The irony here is that a few of these protesters have been arrested and taken to jail.  On the other hand, not a single Wall Street banker has even been investigated, let alone gone to prison.  Only in America can someone go to jail for protesting crime and greed while the people that cause a global financial meltdown get bonuses.  And, only in America would our own corporate controlled media largely ignore the entire story!