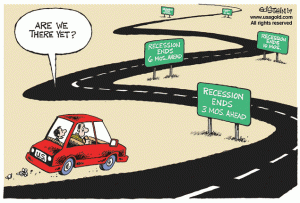 By Greg Hunter's USAWatchdog.com
It seems every week in the mainstream media there are multiple references to the so-called economic recovery 2011.  There has been some good news about profits at Ford, Chrysler and General Motors in recent weeks, and GM plans on spending $2 billion to update plants and hire more than 4,000 workers.  I am happy the Big 3 car companies are doing well even though two of them went through bankruptcy. I am also thrilled that GM is hiring, but the car company still employs only about half (49,000) of the hourly workers it had in 2006.
An example, of what I am talking about is contained in the headline of yesterday's USA Today newspaper.  It read "Middle-class and hungry in post-recession USA." The story goes on to say, "Cutting back became a necessity for many American families during and after the recession. But what the Cruz family and a growing number of other once-thriving middle-class families didn't expect was to find themselves qualifying for — and needing — the support of federally funded food assistance programs." (Click here to read the complete USA Today story.) How can the recession be over when record numbers of Americans are on food stamps and are seeking help from the government to survive?  CNN reported last month, "One in six Americans is receiving help from the government, just as fiscal austerity threatens to reduce some of that aid.  Soaring unemployment during The Great Recession has driven tens of millions of people to the dole. Enrollment in Medicaid and food stamp programs are at record highs, while unemployment insurance rolls remain at elevated levels. Many people depend on more than one program." (Click here for the complete CNN story.)
The absurd idea that the recession we are still experiencing is over comes from the National Bureau of Economic Research.  Here's how the Wall Street Journal reported the announcement last September:  ". . . the committee determined only that the recession ended and a recovery began in that month," the committee said in a statement. The 2007-2009 recession is the longest in the post-WWII period. . . . The decision by the NBER means that any future downturn in the economy would be considered a new recession and not a continuation of the recession that began in 2007." (Click here to read the original WSJ story.)
It is preposterous to call what is going on in America today a "recovery" or "post-recession." Congressman Ron Paul recently said there were "33 million" Americans unemployed.  A record of more than one million foreclosures happened last year, with another record expected to be set again in 2011.  The abandonment of mark to market accounting that happened in 2009 to make the banks look solvent (when indeed they are not) is still in place.   157 banks were closed down by the FDIC in 2010, and 40 have been shut down so far this year.  These banks weren't closed  because they had too much money and people were making their debt payments on time.  Just this week, Reuters reported, "U.S. home values fell in the first quarter at the fastest rate since late 2008, real estate data firm Zillow Inc. said on Monday, suggesting that a bottom will not be seen until 2012 at the earliest. . . . The number of homeowners under water — or, those who owe more on the mortgage than their house is currently worth — amounted to 28.4 percent of single-family homeowners, representing a peak since Zillow began calculating the data in 2009." (Click here for the complete Reuters report.) Nearly 1 in 3 homeowners is "under water" with no bottom in real estate until "2012 at the earliest." I really don't see how the NBER declared the recession over in 2009!  Is this really what a "recovery" is supposed to look like?  I don't think so.
A few glimmers of hope in the economy do not make for a real sustained recovery.  Much of the constant cheerleading by the mainstream media is more like public relations than real reporting.