Tap Dancing on A Land Mine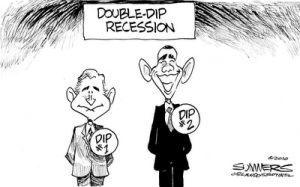 By Greg Hunter's USAWatchdog.com
The economic "recovery" talk picked up some speed yesterday as retail sales for August were announced.  The government said sales were up a whopping .4%. It seemed everybody on financial TV was talking like the worst is now behind us, and there was no chance of a dreaded "double-dip" in the economy.  Even Warren Buffett ruled out a falling economy.  Yesterday, Bloomberg quoted the "Oracle of Omaha" in a report  where he said, "I am a huge bull on this country," Buffett, Berkshire's chief executive officer, said today in remarks to the Montana Economic Development Summit. "We will not have a double-dip recession at all. I see our businesses coming back almost across the board." (Click here for the complete Bloomberg report.)
I guess I'd be bullish on America, too, if companies I invested in (Wells Fargo, American Express, GE and Goldman Sachs, to name a few) all got taxpayer bailouts to help them survive the economic meltdown in 2008.  Mr. Buffett might not look so smart or be so optimistic if those bailouts had not happened.
Last week, FDIC Chairman Shelia Bair said pretty much the same thing as Mr. Buffett. Bair said on CNBC, "We are not predicting–I would use the "we" for the FDIC. I rely on a lot of very smart economists at the FDIC in helping us make those judgments, but right now, no, our economic staff do not predict a double dip." (Click here to see Bair's entire CNBC interview.) This optimism is despite the recent addition of 54 more banks to the "Troubled Bank" list for a new grand total of 829.  The majority of those banks, according to recent comments by renowned economist Nouriel Roubini, will go bust.
Didn't we just get news that car sales are down sharply? Yes. (Click here.) Didn't we just get news that home sales are down sharply? Yes. (Click here.) Don't we still have 15 million Americans unemployed?  Yes. (Click here.) Forget the fantasy 9.6% number the government claims. The real figure is 22%, if unemployment was figured the same way the Bureau of Labor Statistics did it before 1994.
Yale economics professor Robert Shiller must be reading the same things I am because he recently told the Wall Street Journal a double-dip "may be imminent." He says the U.S. economy is "teetering on the brink of deflation." (Click here for the complete WSJ article.) I don't think a measly .4% rise in retail sales is going to change Shiller's mind.  You might remember, he correctly predicted the giant real estate meltdown we are still suffering through.  In another WSJ article, most of the economists it surveyed think the economy is so bad the Federal Reserve will be forced to act soon.  The article said, "Three in five economists surveyed by The Wall Street Journal expect the U.S. Federal Reserve to resume large-scale purchases of securities in the face of a deteriorating economic outlook." (Click here for the complete WSJ story.)
Yesterday, Rick Santelli said on CNBC his big banking sources are predicting as much as "$1 trillion" in a second round of Quantitative Easing or "QE 2." That's Fed speak for more money printing.  That will surely put a big dent in the deflation situation.
According to economist John Williams at shadowstats.com, all the money pumping by the Fed is creating a big downside problem.  In a special report released Monday, the headline read "Systemic Stability: Tap-Dancing on a Land Mine." The report goes on to say, "Pardon the use of the Aerosmith lyrics in the opening headers, but the image of tap-dancing on a land mine pretty much describes what the Federal Reserve and the U.S. Government have been doing in order to prevent a systemic collapse in the last couple of years.  Now, as business activity sinks anew, much expanded supportive measures will be needed to maintain short-term systemic stability.  Such official actions . . . likely will trigger massive flight from the U.S. dollar and force the Federal Reserve into heavy monetization of otherwise unwanted U.S. Treasury debt.  When that land mine explodes — probably within the next six-to-nine months, the onset of a U.S. hyperinflation will be in place, with severe economic, social and political consequences that will follow."
So, as the government and the Fed continue their "tap dance," you should be heading for cover from an explosion of inflation.  Fear of inflation might be the reason gold hit new all-time highs this week.  Oh, and remember that .4%increase in retail sales?  More than three quarters of that, according to shadowstats.com, came from increases in food and energy.  Yeah, that's right—Inflation.  Maybe the Fed will print so much new money we will have a so called "recovery" and avoid a "double-dip," but we will pay for it with much higher prices for everything!