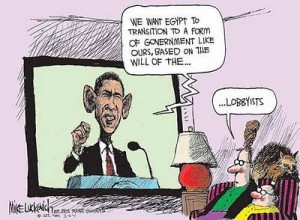 By Greg Hunter's USAWatchdog.com
"Egypt will explode."  That was the reaction on twitter from Mohamed ElBaradei to Hosni Mubarak's announcement not to resign the Presidency of Egypt.  ElBaradei is a former Director General of the International Atomic Energy Agency and Nobel Peace Prize winner.  Now, he has emerged as a leader of the opposition movement.  Mubarak did transfer all power to his Vice President, Omar Suleiman, according to Sameh Shoukhry, the Egyptian Ambassador to the U.S.  That is not going to quell the revolt because it is widely known in Egypt that Suleiman has been linked to torture of its citizens and is a Mubarak appointee.
I don't know who is advising President Mubarak, but yesterday's announcement not to completely step aside amounts to poking a stick into a beehive.  What was a mostly a peaceful revolution could turn decidedly violent in the days ahead.  No matter what happens, it is clear Mubarak is on his way out.  It is likely that will happen long before the September date that Mubarak has given for his departure.  The political landscape in Egypt, and possibly in the entire Middle East, has changed forever.  KT McFarland, former Deputy Assistant Secretary of Defense, said yesterday, "The dominoes are falling one by one throughout the Muslim world. The question is whether they will fall for us or against us." 
There are many questions to be answered.   Here are a few:  Will the new government of Egypt keep the peace treaty with Israel?  One of the leading factions of the protests is the Muslim Brotherhood.  According to Robert Mueller, Director of the FBI, the Muslim Brotherhood has been linked to terrorism.  This group is also very anti-Israel.  If the Muslim Brotherhood takes control, will war be far behind?  Will the U.S. and Egyptian military still enjoy close ties when power shifts to a new government?  (The Egyptians use mostly American made equipment.)  Will the Suez Canal remain a viable and reliable shipping route?  If there are democratic elections, will a Hamas or Hezbollah style government be voted into power or will this be a model democracy in the Muslim world?  Will the revolution in Egypt spread to other Middle Eastern states with authoritarian rule such as Saudi Arabia?  At this point, nobody knows, but all of these questions will be answered in time.
Egypt is one of the oldest continuous civilizations.  In the 4,000 year history since the pyramids were built, the country has been ruled by pharaohs, kings, queens, generals and dictators.  It has never been a democracy.  This transition will not go smoothly.