Fed Most Certainly Will Not Raise Interest Rates—Paul Craig Roberts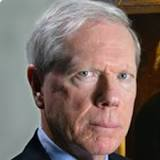 By Greg Hunter's USAWatchdog.com 
Former Assistant Treasury Secretary Dr. Paul Craig Roberts contends all talk of the Fed raising interest rates this fall is totally wrong. Roberts explains, "They most certainly are not going to raise them because they've spent seven years keeping them at zero. In fact, inflation aside, there are already negative interest rates. . . . So, they are most certainly not going to raise interest rates because if they raise the rates, they will destroy all their efforts to keep the big banks afloat. They also would destroy the stock market. What we have seen all these years is every time the market needs to correct, the Plunge Protection Team steps in and buys the Standard and Poor's futures and drives the market back up. So, what would cause the Plunge Protection Team and the Federal Reserve to all of a sudden jettison the policies they have been following all these years to save the big banks, to save the stock market and to keep the aura of success alive in America?"
Dr. Roberts says all the market manipulations have another big benefit. Dr. Roberts contends, "This supports the dollar as well. Now, if they were to raise interest rates, then you would see bond prices collapse, stock prices collapse and, most likely, a movement out of the dollar. The dollar is the main source of Washington's power. So, if the dollar . . . starts going down, this is a disaster for Washington. They may lose the reserve currency status. They would lose the ability to put sanctions on other countries. They would lose the ability to pay their bills by printing dollars. So, the last thing the government wants, and certainly the Fed is part of it, is to see all of this rigged super structure come crashing down because everything would go with it."
Dr. Roberts goes on to say, "So, why does the Fed keep talking about raising interest rates, and they have been doing this for years? Why do they keep saying that, at some point in the future we are going to raise interest rates? That's to reassure the currency market that there is not just going to be an endless outflow of dollars and Federal Reserve purchases of bonds to keep interest rates negative, this is just to reassure the currency market that they are going to put a halt to this next September or next June. It is part of keeping the show on the road. It's part of keeping this rigged system believable. . . . It's all part of the propaganda campaign."
On the recent sell off of the market in China, Dr. Roberts says, "Clearly, if the Chinese market is going down, it does suggest the situation in the United States is not that good because so much of the output of China is the off-shore production of American firms for the global market. So, if China's economy is falling, it implies that the American economy is not doing well either because they can't buy all the stuff that the American firms are making in China."
Dr. Roberts has repeatedly called the global economy a "house of cards." Currently, demand for physical gold and silver is spiking even though prices are falling. What does this mean? Dr. Roberts says, "Some people clearly understand it, and that's why the demand of gold and silver is so high that it often cannot be met. Right now, for example, the U.S. Mint has suspended all sales of Silver Eagles simply because they cannot get enough silver to manufacture the coins to meet the demand. We see that the gold trusts are being depleted. We see extraordinary amounts of withdrawals from the Shanghai Gold Exchange. So, we know the demand for gold and silver is very, very high. Some people know that, but the financial press operates to disguise what's going on. The financial press says the reason the demand for coins is so high is the price is falling. What made the price fall? Only two things can cause the price of gold to fall. One has to be a great increase in supplies . . . but that's not what's happening, it's the opposite. . . . The only other thing that could cause the price to fall is a massive decrease in demand. We are seeing a massive increase in demand. The paper market is driving down the price and it's fraudulent. All these stories are coming out in the press that gold is not money. It's a pet rock. . . ."
Join Greg Hunter as he goes One-on-One with former top Treasury Department insider Dr. Paul Craig Roberts.
(There is much, much more in the hour long in-depth interview.)
After the Interview:
Dr. Roberts is a prolific writer, and you can find his work and donate to his not-for-profit website at PaulCraigRoberts.org.