Fed Panics & Starts Massive Money Printing – Michael Pento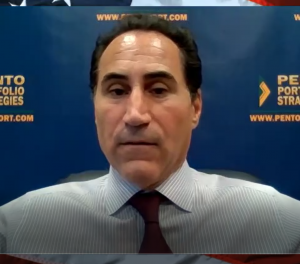 By Greg Hunter's USAWatchdog.com (Early Sunday Release)
Economist and money manager Michael Pento says the recent Federal Reserve about face in policy with cutting rates and new QE (money printing) means only one thing. Pento explains, "So, the Fed changed their mind, panicked, the Fed panicked. They not only stopped raising rates, they now cut rates twice, and they are going to cut rates again at the end of this month. They are also fully back in a massive QE. They have a $130 billion revolving repo facility shoving $130 billion every night, rolling it over, trying to re-liquefy the banking system and back into QE–$60 billion per month. At the peak, it was $85 billion. So, they are almost back to the peak of QE (during the Great Recession). They did not scale in, the Fed went to $60 billion right away."
Why the sudden burst of money printing when we are being told the economy is fine? Pento says the Fed is panicking to stop a "depression." That's right, a depression. Pento contends, "I am on record saying given the extent of the asset bubbles that we have today . . . household debt is at a record high. Corporate debt is at a record high, up 60%. The national debt was $9 trillion prior to the Great Recession and is now $23 trillion. Total non-financial debt is now $53 trillion, and it was $33 trillion prior to the Great Recession. . . . Given all these imbalances and deformations, the Fed knows we are not going to have some mild recession. If they don't re-liquefy the money markets, the same thing that happened back in 2008 would happen today, only the stock market was only a 100% of GDP and today it is 150% or one and a half times the economy. So, the plunge in the stock market would be huge and from a much higher level. Back in the Great Recession, unemployment claims spiked. We had millions of people laid off, and the same thing would happen today only it would be much worse."
Pento predicts the debt bubble will implode at some point, and it will be felt everywhere on the planet. Pento says, "When this thing implodes, we are all screwed. On a global scale, we have never before created such a magnificent bubble. These central bankers are clueless, and they have proven that beyond a doubt. All they can do is to try to keep the bubble going. . . . I am going to make sure my clients are going to be protected and may have a chance to profit from this chaos because it is coming, and it is going to be brutal."
Join Greg Hunter as he goes One-on-One with money manager and financial expert Michael Pento of Pento Portfolio Strategies.
(To Donate to USAWatchdog.com Click Here)
After the Interview:
There is free information on PentoPort.com. To become a subscriber to Michael Pento's podcasts, click here. There is a five week free trial option.
This segment is sponsored by Discount Gold and Silver Trading. Ask for Melody Cedarstrom, the owner, at 1-800-375-4188.