Fed Waterboarding Deutsche Bank – Rob Kirby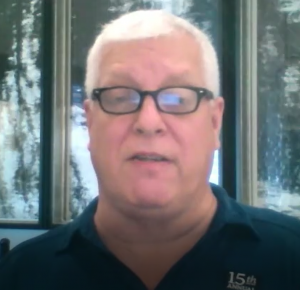 By Greg Hunter's USAWatchdog.com (Early Sunday Release)
Macroeconomic analyst Rob Kirby says there is a lot you are not seeing with all the bad news coming from Deutsche Bank (DB). You've seen DB stock hit all-time lows, the Fed downgrading them and flunking the bank on a recent stress test. Rob Kirby says it's much worse than you think and explains, "Basically, it is the German regulator telling DB you are going to get out of this pool, then the Americans realizing how hostile the Germans have become to the criminal activity of the U.S. monetary complex. They basically said you are getting out of our pool?  Well, we're going to waterboard you first, and we're going to bring public shame upon you."
Is Kirby worried about DB going under? Kirby says, "I think Deutsche Bank could go under. It might very well deserve to go under, but will they be permitted to go under? In my view, there is no doubt what-so-ever that Morgan Stanley was insolvent in the 2008 and 2009 time frame. Their stock was at $5, and it looked like it was going to $0. They pulled out the stops and papered over the shortcomings at Morgan Stanley." Kirby thinks European central bankers will do the same for DB.
Kirby goes on to say, "What we are really seeing here . . . is a trade war that has been going on for quite some time. This is a frictional description I am giving characterizing the regulatory relationship between American regulatory interests and German regulatory interests."
Kirby cites the example of Germany building an engine plant in Russia in 2015 against the wishes of the U.S.  Kirby says, "The U.S. wanted to put Russia in an economic penalty box. . . . As the date approached for the VW engine plant opening in Russia, so did the rhetoric between the U.S. EPA and VW regarding emissions on their diesel engines. They got a huge fine. . . . You could not have a closer measure of cause and reaction than this engine plant opening in Russia, and days later, this . . . very, very punitive fine on VW."
Kirby says what this all boils down to is pro-dollar dollar forces vs. anti-dollar forces. Kirby contends, "Three, four and five years ago, countries taking anti-dollar actions would have included only China, Russia and a few other smaller Asian players. Now, we are starting to see friction that is not just Asian players, now it's Germany. Who's next? Is it going to be the whole European Union . . . going to drift into the anti-dollar camp as well?  America is becoming isolated."
Join Greg Hunter as he goes One-on-One with macroeconomic analyst Rob Kirby.
(To Donate to USAWatchdog.com Click Here)
After the Interview: 
You can find some free information on KirbyAnalytics.com. You can also subscribe to get Rob Kirby's analysis on a regular basis by clicking here.
Below is the entire article Rob Kirby wrote in preparation for this interview for USAW:
Doings at Deutsche Bank
A recent ZeroHedge article chronicled a very large one day loss suffered by German banking giant, Deutsche Bank in the first quarter of 2018. This one day loss was reported as being "12 times VaR". So what is VaR anyway? The definition/explanation of VaR is can be read at the Office of the Comptroller of the Currency [OCC] latest quarterly derivatives report – page 11 – at this link. Boiled down in layman's terms VaR is a proprietarily calculated measure, unique to each financial institution – expressing how much money they could likely lose on any given day on a worst-case-basis.
A Bit of Deutsche Bank's Recent History
On June 26, 2015 we learned from a Reuters article citing sources at the Financial Times that German bank regulators were concerned that Deutsche Bank chairman [at the time] Anshu Jain may have lied to them when interviewed back in 2012 when they were investigating rumours of interest rate rigging in the 2012 timeframe. Back in 2012 rumours were also rampant that precious metals prices were rigged too – so it is not a stretch to believe that German bank regulators were investigating this as well. Sidebar: Coincidentally, or perhaps not, it was in 2012 that The German Federal Court of Auditors asked for an inspection [audit] of their foreign gold reserves held at the Federal Reserve Bank of NY – and were denied.
German bank regulator, BaFin, reportedly ordered back in 2012 that Deutsche Bank face "special banking supervisory measures" as a result.
A Few Words on German Bank Regulation From the Horse's Mouth
"The German national central bank is the Deutsche Bundesbank. In banking supervision, the Deutsche Bundesbank works in close co-operation with BaFin and the ECB. Because of its role in the European System of Central Banks, the Eurosystem and its participation in the euro payment system TARGET2, it has genuine access to much data relating to banks. In addition, regular reporting by the financial sector is addressed to the Deutsche Bundesbank, which performs a quantitative analysis of a financial institution's figures. If a problem occurs, the Deutsche Bundesbank will promptly involve BaFin."
From the preceding, we can logically assume that Deutsche Bank [DB] was and with recent developments remains in the crosshairs and a tight leash of German bank regulators.
Overlying Parallel Macro Developments
Much has been written about the size of Deutsche Bank's derivatives book – which peaked at $75 Trillion in notional around the time when regulators began looking into Deutsch Bank's books. Since then DB's derivatives book has shrunk dramatically [43 Trillion Euro at Dec 32/16].
A few more milestones:
After being denied audit of their Gold holdings at the Fed in NY in 2012, Germans requested return of their gold and were denied again
A seemingly revolving door at the head of DB, CEO Joseph Ackermann replaced by Anshu Jain May 2012. Jain replaced by John Cryan June 2015. Cryan replaced by Christian Sewing April 2018. Who's really steering the ship?
In 2014, DB quits the gold and silver fix in London
In June 2015, DB's Frankfurt offices raided
In April, 2016 DB admits rigging the price of gold and silver
Analysis
For the past dozen years I have researched/written about interest rate derivatives [interest rate swaps and FRA's] and how they were utilized by the US Treasury [ESF] working in conjunction with the NY Fed in the wake of the 2008 financial crisis to force interest rates to zero. When the US Treasury/ESF executed these trades [NY Fed acting as broker], select banks were made captive, risk free buyers of unthinkable amounts of US government debt. In effect, US monetary policy was being executed/instituted through the derivatives books of the largest commercial banks. This was more than an American operation – there were foreign banks involved too – DB being one of them.
When German regulators began accessing DB's books in 2012, they "freaked out" at the complicity of DB with the US monetary apparatus and they put an end to it. There is no doubt, this would have been construed as a hostile act on the part of Germany by US monetary elites, that is, a rift was created. While investigating DB's books, German regulators would have also taken note of the "American centric" criminal price suppression in the precious metals arena. This is why DB was "ORDERED" out of the pool in the gold and silver markets and does much to explain why Germany requested their sovereign gold be returned.
Remember folks, control of the price of precious metals and interest rates are "lynch pins" to underlying global perceptions of the worth of the US dollar.
A FUNDAMENTAL rift has opened between Germany and the US. In my view, German regulators DO NOT approve of American hegemony/monetary stewardship. An "undeclared" Trade War has been smouldering in the background for a number of years already folks. Consider the following coincidences:
Getting back to DB's most recent one-day-loss of 12 times VaR – it has the appearance or odour of being 'ordered'. Given all that has occurred, German regulators would/should have been aware of this situation. It would not surprise me if we find out that this "loss" was the result of German regulators ordering DB to "shutter" another misguided business line. ###