FISA Memo Tip of Iceberg, Economy Good Financial System Bad, Boycott Super Bowl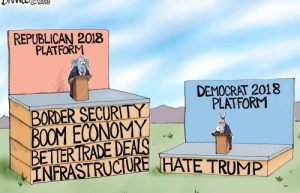 By Greg Hunter's USAWatchdog.com (WNW 320 2.2.18) 
The FISA Memo outlining illegal and fraudulent spying on Donald Trump and his Administration is just the first round in the coming revelations. Before it's over, America is going to be shown evidence that the FBI and DOJ not only committed crimes against an incoming President to try and get him kicked out of office, but massive crimes against other politicians it did not approve of.  The evidence will likely include spying on millions of Americans, and that will shake the Republic.  It will also send many traitors to the Constitution to jail.  The calm before the storm is over, and expect some wild things coming to America.
I have said the good news about the economy is the President is going to be successful. The latest good news in the Trump economy is a projected 5.4% GDP rate.  That's twice the GDP in any year of the Obama Administration.  The bad news about the President is he's also going to be successful, and that is finally going send interest rates higher.  Can that cause big problems in the financial markets?  You bet, and this bubble may finally have its long anticipated pop.
The NFL is holding its annual Super Bowl. The newly resigned commissioner (5 year contract) Roger Goodell is overtly stating the NFL is going to double down on the social justice theme, which is covert language for Marxism and communism.  I strongly feel this is anti-constitutional, anti-liberty, anti-freedom and anti-Christian.  The NFL, under Goodell, will also continue to condone kneeling during the National Anthem. Please Boycott the Super Bowl and the NFL. 
Join Greg Hunter as he talks about these stories and more in the Weekly News Wrap-Up.
(To Donate to USAWatchdog.com Click Here) 
After the Wrap-Up:
Craig Hemke of TFMetalsReport.com will be the guest on the "Early Sunday Release." Hemke gives his analysis on why the dollar is headed down and gold and silver are headed up.