Gulf Oil Spill Spells Higher Prices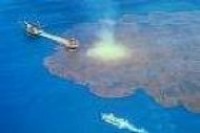 By Greg Hunter's USAWatchdog.com 
A little more than a month ago, President Obama took a big step toward weaning the country off foreign oil.   His bold plan, announced at the end of March, included opening up 167 million acres along the Atlantic coastline as well as parts of the eastern Gulf of Mexico and the northern coast of Alaska for drilling.  This move was supposed to help reduce America's dependence on imported oil.  What a difference a month and one giant gushing oil spill makes.
Just last week, the Obama Administration put on hold any plans for new oil and natural gas exploration until more is known about the spill in the Gulf off the coast of Louisana.  This spill is already being compared to the Exxon Valdez, which was one of  the worst oil spills in history.
There are some big differences between the Valdez and the current Gulf spill.  The Valdez spill came from a single tanker.  All told, 10.8 million gallons poured out into the Prince William Sound in Alaska.  The Gulf spill is reportedly coming from a leak a mile under the ocean at a rate of 200,000 gallons a day.  It has been reported 9 million gallons have already surged from the undersea well.  This is a highly unusual leak because it is so far below the surface (nearly a mile deep).  According to Reuters, "It could take weeks to stem the flow of oil and would require either trapping it and channeling it to a tanker, or drilling a relief well. In the interim, the Coast Guard deployed booms along parts of the coast to protect the shore."  It looks like far more oil will be spilled here than in the Prince William Sound in 1989.
The biggest difference between the Valdez and the current Gulf spill is location.  The Valdez created a giant environmental disaster, but it was in a far away place most people never see and few people live.  The Gulf spill could affect areas that are much more populated and visited relative to Alaska, namely the Louisiana, Alabama and west coast of Florida.  According to the Associated Press, environmentalists are seizing on the spill issue, "This event is a game changer, and the consequences, I believe, will be long-lasting ecologically and politically – and will be irreversible," said Richard Charter, energy consultant to Defenders of Wildlife.  (Click here for the complete AP story.)
This may be a far worse spill than the Valdez both physically and politically.  I predict the pictures of oil soaked wildlife will put a discouraging effect on new oil and natural gas exploration in the United States.   The chant "Drill Baby Drill" just might turn into "Chill Baby Chill."  Long term, this will put downward pressure on supply and upward pressure on price.  In short, the political and environmental fallout from this spill will keep America addicted to expensive foreign oil for some years to come.