Housing Shows There Is No Recovery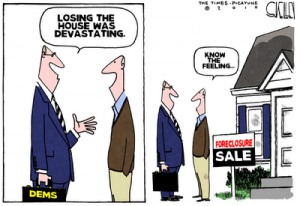 By Greg Hunter's USAWatchdog.com
Housing starts are a tried and true barometer of business activity.  If there was a real economic recovery going on, housing starts would be, at the very least, edging up.  Please keep in mind the government is providing some of the lowest mortgage rates in a generation.  A 30-year mortgage is around 4.75%.  This week, the Commerce Department reported housing starts were down 4.3% last month. Here's how this was couched in the opening line of a Bloomberg story:   "Builders began work on fewer homes than projected in December, a sign the industry that triggered the recession continued to struggle more than a year into the U.S. economic recovery."  (Click here to read the complete Bloomberg story.)
"More than a year into the U.S. economic recovery." What recovery? I feel Bloomberg does a better job than most reporting the financial news, but I cannot figure out why nearly all reporters universally keep beating the "recovery"drum when there is no actual proof of a sustained recovery.   The same Bloomberg story quoted above backs up my contention.  It said, "Boston Fed President Eric Rosengren is among central bankers concerned growth won't exceed 4 percent this year because the housing recovery is likely to be weaker than usual, given the tightening of lending standards and high vacancy rates. "If housing-related growth is not going to boost the recovery this time around, we may need policy — particularly monetary policy — to continue playing a stimulative role," Rosengren said in a Jan. 14 speech."
Why in the world would the Fed need "to continue playing a stimulative role" if there was, in fact, a sustained recovery?  The answer is simple—there is no recovery.  For example, just this week, American Express announced it is closing a call center in Greensboro, North Carolina.  It is one of four in the U.S.  1,900 high paying white-collar jobs will be gone by the end of the year.  Does this sound like a growing economy where credit is being extended?  This is not just the loss of those jobs, but it will cause a ripple effect.  For instance, Am Ex and its employees contributed $250,000 last year to the local United Way.  (Click here ro read more on the Am Ex call center closing.)
Patrick Killelea of the popular housing website Patrick.net says the shaky job market is why real estate is in the tank.  Killelea, who lives in California, tells me, ". . . housing is still dead in the water, because prices are still too high for current conditions, especially in upscale neighborhoods. There is still widespread unemployment, and the new hiring is at significantly lower wages. People who are making less and who do not feel secure in their jobs are not about to go out and buy a house, even if the banks will lend to them. . . . In my own neighborhood, I can see houses that are being built noticeably smaller and closer together . . . I recently saw builders demolish two adjacent houses and put up four houses in their place.  In fact, I see a continuing crash in prices that's just not getting much press.  If you go (here,) you can see prices in Los Angeles over the last year. That graph includes more than 300,000 asking prices in Los Angeles. It's a daily average, so it's a bit noisy, but house prices are clearly still on a downward trend."  (Click here to go to Patrick.net.)
In his latest report (out this week), economist John Williams at Shadowstats.com says, "A renewed downturn, however, now appears to have taken hold, with fourth-quarter 2010 housing starts falling at an annualized pace of 29.9% versus an 8.8% annualized decline in the second quarter.  This is bad news for broad economic activity, for the banking industry and for the systemic solvency crisis." Williams' work is clearly pointing to a further downturn and increased chances of a "systemic solvency crisis." In layman's terms, the most recent housing data is pointing to another financial meltdown and more Fed money printing to try to stop it.
We are off more than 75% in housing starts from the 2005-2006 high watermark.  What has been going on the last couple of years is what Williams calls "bottom bouncing." Please keep in mind, real estate was still bottom bouncing even though the U.S. government was paying people to buy houses through the "Home Buyer Tax Credit."  Buyers could receive a kickback of up to $8,000 for signing a residential real estate deal.  I look for this government giveaway program to make an encore appearance in 2011 because, according to Williams, housing will get worse–NOT recover.  "Although the pattern of housing starts generally remains one of bottom-bouncing at a historically low-level plateau of activity, as seen over the last 24 months, the recent activity has started to slow anew, meaningfully.  Even-weaker monthly numbers remain likely in the months ahead," said Williams.  Below, you can see what the so-called recovery looks like in housing starts on a 6 year graph.  Does this look like a "recovery"?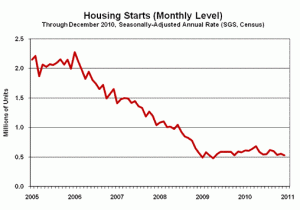 The housing recovery is going to take a very long time to materialize.  Some states will stay depressed a lot longer than others.  According to 24/7WallStreet.com, there are "Eight States Running Out of Homebuyers." This week, the online financial publication named Michigan, Nevada, Arizona, California, Illinois, Georgia, Oregon and Florida as the states that will take the longest to come back.  24/7Wallstreet.com said, "The real estate crisis has gone on for four years. In the states 24/7 Wall St. has chosen here, the crisis will go on much longer."(Click here for the complete 24/7wallstreet.com report.)
Let's all hope the real estate slump gets no worse than "bottom bouncing" and doesn't turn into a full blown financial meltdown.