Interesting Depression & Period of Living Without – Rick Ackerman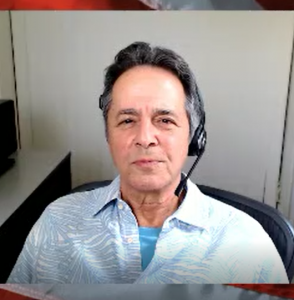 By Greg Hunter's USAWatchdog.com (Early Sunday Release)
Financial writer and professional trader Rick Ackerman says the economy is tanking, and there is no way to avoid an economic depression. Ackerman explains, "It's going to be an interesting depression because we have all the infrastructure of affluence. We have achieved a pinnacle of affluence, and the metaphor I use is riding to the soup kitchen on an $8,000 trail bike. . . . I hope we find things that make life worth going on without all the stuff. So, we are going to be in a period of living without all the good stuff, and that is going to be the norm. There is also a really hopeful side to economic distress, but we are most surely headed into a period of severe distress . . . and a period of living without. We will find we are not living without things that are intrinsic to human nature that are good. . . .We going to have to find ways to get along because we are headed into hard times."
A few years ago, Ackerman predicted that the trend for interest rates was down. The 10 year Treasury is now near a record low. Does Ackerman see rates going even lower? Ackerman says, "Yes, I see lower rates. I think we will have lower rates until, at some point in the future, people will start sniffing out a hyperinflation. You know I have been a deflationist for a lot of years. I think we will have to cross the valley of deflation, but somewhere there is a hyperinflation. It won't take high interest rates to do it because we will be dealing with a real burden of debt that is going to be crushing no matter where interest rates are even if they are fixed at 2%." Ackerman sees the 10-year Treasury hitting ".25%."
Is real estate a safe bet? Ackerman says, "When real assets start to sink like real estate, what are you going to do? Are you going to send mortgage checks out on behalf of homeowners to the lenders? . . . . You'd have to be crazy to think when real estate opens up it will be trading at the prices in February. We will get a 25% haircut from the get go . . . because we are going to have to deal with a lot of speculative excesses. . . . Minimum, it will be down 25%, which will bring us close to the 2007-2008 where real estate across the country lost about 33% of its value. I have been saying for a long time that real estate will sink 70% with maybe a 90% drop in second homes. Everything has come back from the last time, but I think we are going to do the whole 70% drop in value this next time."
Ackerman also thinks cash will be valuable in the future because it will be rare. Ackerman points out that the "debt being destroyed and defaulted on dwarfs the amount of money printing" for now, and that is deflationary. So, he likes cash in the near term and gold in the longer term. Ackerman contends, "What do we use to buy stuff now? We use credit cards or real cash pretty much. If we have deleveraging of the derivatives market and the daisy chain and clearing relationships for credit cards and debit cards . . . I don't think that system would survive the implosion of the derivatives market. So, it leaves you with cash and barter. I hate to say it, but we are going to get there at some point. . . . This could happen tomorrow because of some little accident. You don't know–like nobody knew the coronavirus was coming."
Ackerman says he likes gold because even in deflation, debt default and destruction, "Gold will hold its value. . . . Gold is catching on now because of uncertainty and not inflation—yet."
In closing, Ackerman says, "I still believe we are going to have a deflationary abyss to cross before we get to the hyperinflation of the mind where people realize the government's obligation either to default on Treasury debt or not is the crux of the hyperinflation argument. Yes, at that point, I have to acknowledge the Fed can print money without limit, and they may have to."
Join Greg Hunter as he goes One-on-One with analyst/trader Rick Ackerman.
(To Donate to USAWatchdog.com Click Here)
After the Interview:
There is free information and original analysis on RickAckerman.com. To get much more, you can become a subscriber. There is a free two week trial on the front page of RickAckerman.com.
This segment is sponsored by Discount Gold and Silver Trading. Ask for Melody Cedarstrom, the owner, at 1-800-375-4188.