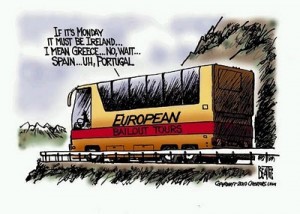 By Greg Hunter's USAWatchdog.com
It is official.  Ireland was bailed out yesterday by the European Union with a financial package totaling more than a $112 billion.  This money bails out Irish banks but coincides with steep cuts in the Irish budget.   Marketwatch.com is reporting, "This program is absolutely essential for the country," said Irish Prime Minister Brian Cowen at a press conference in Dublin. "We have carefully considered all available policy options. (It's) the best available deal for Ireland." (Click here for the complete article from Marketwatch.com.)
Not everybody in Ireland thinks bailing out the banks was such a good idea.   More than 100,000 people marched in protest in Dublin on Saturday.  One of the Irishmen organizing the peaceful demonstration is Jim Corr.  You may not recognize him, but you probably have heard many of the hits from his folk/rock band, "The Corrs."  I remember them being booked on Good Morning America in the early 2000's when I worked there.  Back then, getting them was a big deal.  Corr is not just a musician.  He is heavily involved in charity and, more recently, activism.  Corr says the bailout of Ireland's banks will enslave the island nation and means the end of Irish sovereignty.  Corr put out a video to his countrymen recently before the protest over the weekend.  Corr thinks the world financial crash is "engineered" and designed to take over not just Ireland but "many countries."  Hear what Jim Corr has to say for yourself.  Keep in mind he could be talking to someone in any country affected by the financial meltdown, and that includes America.  I thought what Corr had to say was compelling.  Please check out his video here:

Corr believes Ireland should let the banks fail and not prop up insolvent institutions.  That is exactly how Iceland is handling its meltdown from 2 years ago.  Iceland's President Olafur Grimsson appeared on Bloomberg TV last Friday and said his country is better off for not propping up his country's banks.  Iceland still owes $85 billion in debt.  Grimsson said, "The difference is that in Iceland we allowed the banks to fail . . . These were private banks and we didn't pump money into them in order to keep them going; the state did not shoulder the responsibility of the failed private banks. . . . As a consequence, Iceland is faring much better than anybody expected."  (Click here to read the complete Bloomberg story.)    What helped Iceland was the fact the country could devalue its currency (the Krona).  Ireland uses the Euro, and it cannot devalue it.
The question for Iceland and any other country is how much should regular people have to pay for the mistakes of reckless private banks?  In Iceland's case, the people voted down a deal this year that would have saddled each and every person with a debt of more than $16,000.  The referendum received a "no" vote by more than 90% of the people.  The rating agencies cut the country's debt to "junk," but now Iceland is in a stronger negotiating position with its creditors.  Iceland is going to pay some of the debt off, but many experts are anticipating creditors will take big losses.
Ireland's leaders, on the other hand, accepted the EU bailout and will now be forced to pay the full price for the mistakes of its banks for generations to come.  Before the Irish accepted the EU bailout, there was a meeting at the European Parliament where bailouts of Ireland and other countries were being discussed.  One United Kingdom member of the EU Parliament, Nigel Farage, warned that the Irish bailout would lead to more bailouts and, ultimately, the destruction on the Euro currency.  As I watched this, I wished he was an American politician.  Enjoy: