Market Pre-Crash, China Bumps US Debt, Biden Better than Hillary, Dems for Iran Deal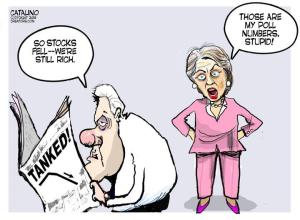 By Greg Hunter's USAWatchdog.com (WNW 205 8.28.15)

To say the stock market was on a roller-coaster ride this week is an understatement. Already, some are saying this action is just a blip. They say it's a buying opportunity. They say it's a correction and nothing more. My sources say none of that is true, that this is just the warm-up act of a much bigger downturn. Charles Nenner told me this is just the pre-crash. The big crash is coming. Gregory Mannarino of TradersChoice.net, who called the top in this market more than 2,000 points ago, says market crashes are not a one and done event but a process. He says the 2008 meltdown started in September and didn't finish until March of 2009. It only ended with massive QE and money printing and suspension of accounting rules by FASB. Fast forward to today, and we have reports of China selling U.S. debt (Treasuries) because China's markets are in turmoil. In simple terms, they need the cash to try to stabilize their markets. ZeroHedge.com is reporting that when China sells Treasuries, it is really QE or money printing in reverse. It is reported that if China sells enough Treasuries, it could spike interest rates. Funny, former Fed Head Alan Greenspan also recently warned that a bond bubble could explode and spike interest rates. What happens if every other country sells a chunk of the more than $16 trillion of liquid U.S. government debt all at the same time? This is the scenario economist John Williams has been warning against and will be here for an update next week.
Hillary Clinton now says she "made a bad choice" for having her own private server doing government email at the State Department. That is an interesting description, "made a bad choice." I guess you can say fraudster Bernie Madoff "made a bad choice." I guess you could say David Petraeus, former head of the CIA, "made a bad choice." He pled guilty to a felony charge on how he mishandled documents. He did not put national security at risk. It is alleged that Clinton broke the law and jeopardized national security by her use of a private server. This server was magically wiped clean before it was taken by the FBI. This story is far from over, which is why you are hearing loud rumblings of Vice President Joe Biden getting into the race. You think he has some inside view of how much trouble Hillary is in after decades in Washington? In a new national poll, Biden does better than Hillary in a national election against Republicans. Do you really think the Democrats are going to take a big chance on Hillary? I still think she will not be President, and she may be out of the race before the first Democratic debate next year.
The White House is pushing hard for votes in the Iran Nuke deal. Obama is picking up Senate votes from Democrats, even though the deal allows Iran to inspect its own military facilities. The deal is a sham, but that hasn't stopped 28 Democratic Senators who have come out in favor of the deal. Obama needs 34 yes votes from Democrats in the Senate, and it is still too close to call if Congress will be able to override a Presidential veto. Meanwhile, it is reported that Iran will continue to support Hamas, which is intent on destroying Israel just like Iran. This deal will give the Iranians $150 billion, and all restrictions will basically be finished. This so-called deal is not going to usher in a new more peaceful Middle East but bring it to war. By the way, new reports say Pakistan is on its way to being the third largest nuclear arsenal within 10 years but already has many nukes, and Saudi Arabia has said many times it wants nuclear weapons and is very friendly with Pakistan.
Finally, former adviser to UK Prime Minister Gordon Brown is telling his fellow countrymen to "stock up on tinned goods and bottled water."  Also, Damian McBride says get "hard cash in a safe place" because you won't be able to count on the banks being open. This was reported this week in the Independent, a large UK news outlet. It sounds to me that the top insider knows full well time is short, and some of them have a conscience. I hope people will take note no matter where you are in the world. What is coming will be a global phenomenon.
Join Greg Hunter as he looks at these stories and more in the Weekly News Wrap-Up.