Memorial Day and the Last Nail Speech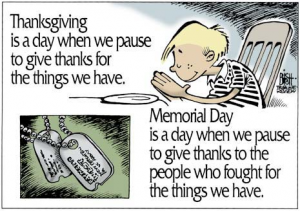 By Greg Hunter's USAWatchdog.com

I was out eating with my wife this weekend and saw a veteran getting out of a car with a Purple Heart on his license plate.  After my meal, as I was walking by his table, I stopped and thanked him for his service to the country.  He smiled big, and shook my hand.  My wife later asked me what I thought his war injury was. I told her that when the veteran shook my hand, he was missing half of his.  I strongly suspect that is, at least, part of the reason that vet won a Purple Heart.  God bless him.
I don't care where you stand on the wars we have going on around the world, you must support our men and women in uniform.  Some make the supreme sacrifice securing our freedom.  Just this past Thursday in Afghanistan, seven U.S. troops were killed in one deadly blast.  The soldiers were on patrol in a field 12 miles from Pakistan.  These guys never knew what hit them, but they do not have to be forgotten.  So, please remember all of the men and women who have sacrificed for the good of the country and our freedom.
While we have our military in harm's way, fighting for our freedom abroad, members of Congress were busy taking some of it away.  Last week, a four year extension of the Patriot Act passed and was signed into law by what is called the "autopen" because the President is out of the country.  (The autopen is a machine that replicates the president's signature.)   Last week, Politico.com reported on the Patriot Act bill and said Senate Majority Leader Harry Reid, ". . . noted throughout the week that he was working toward a fair amendment process, but said the top priority was to ensure the Patriot Act provisions did not lapse and jeopardize the nation's security.  'Although the PATRIOT Act is not a perfect law, it provides our intelligence and law enforcement communities with crucial tools to keep America safe and thwart terrorism,' Reid said in a statement after the vote." (Click here to read the complete Politico.com story.)

There were members in the House and Senate on both sides of the isle who wanted amendments and oversight provisions, but the act passed without any of them.  That didn't mean there wasn't some stiff opposition to passing the bill and trying to safeguard our freedoms.  Congressman Ron Paul gave a spirited speech in which his opening remarks said, "The last nail is being driven into the coffin of the American Republic." Please take the time to watch Dr. Paul's speech he gave last Wednesday on the floor of the House of Representatives below:

Also, if you have time, please watch "The American Dream By The Provocateur Network" below.   It is a cartoon that was launched on You Tube early this year.  It has gotten more than 600,000 views!  When you watch it, you will discover why so many have viewed it.  Enjoy: