More on AIG Cover-up and U.S. Deficit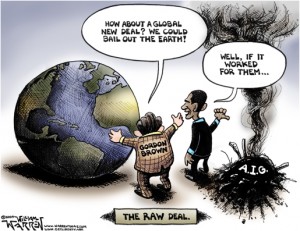 By Greg Hunter's USAWatchdog.com 
This was a huge week folks.  The two big stories I wrote about were the AIG bailout and cover-up and the U.S. deficit.  I have a couple of really good stories to pass along that will give you some more perspective on both.
First, there is a lot more to the AIG story that will come out in the future.  The Huffington Post ran a story called "Is Bernanke Hiding a Smoking Gun?"  It's about how the Fed Chief was behind the bailout of AIG even though his staff recommended not to rescue the insurance giant.  Ryan Grim wrote, "A Republican senator said Tuesday that documents showing Federal Reserve Board Chairman Ben Bernanke covered up the fact that his staff recommended he not bailout AIG are being kept from the public. And a House Republican charged that a whistle blower had alerted Congress to specific documents provide "troubling details" of Bernanke's role in the AIG bailout.
Sen. Jim Bunning (R-Ky.), a Bernanke critic, said on CNBC that he has seen documents showing that Bernanke overruled such a recommendation. If that's the case, it raises questions about whether bailing out AIG was actually necessary, and what Bernanke's motives were."   (more from the Huffington Post)
The other story I wanted you to read is by the former Comptroller General of the United States.  David Walker was the nation's top accountant for 10 years.  He has been warning of problems with America's massive budget deficits for years.  Earlier this week, I told you the new debt ceiling  will equal roughly the entire Gross Domestic Product of the U.S.   The budget deficit is now a whopping $14.3 trillion in red ink!   (click here  for the latest story on the new $1.9 trillion increase)   Walker says this is nothing but very bad news.  Walker's piece is called "The Scary Budget Numbers"   and it is a very good and horrifying  read.