Murdoch Media Misdirection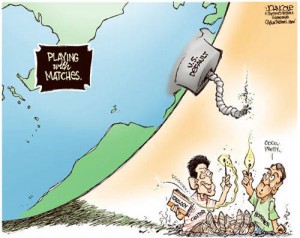 By Greg Hunter's USAWatchdog.com 
Yesterday, there was a UK hearing featuring father and son executives Rupert and James Murdoch over alleged phone hacking.  The spectacle was covered wall-to-wall by most cable news outlets.  Channel surfing, I realized that at one point, CNN, HLN, FOX News, FOX Business, MSNBC, CNBC and Bloomberg were all running the testimony.  The coverage was highlighted by a disgruntled protester attempting to hit the senior Murdoch with some sort of foam pie.  The phone hacking saga is all over the internet too.  Even the FBI is investigating whether or not News Corp. employees did illegal information gathering on victims' families of 9/11.  I guess the FBI is all through investigating the crimes of mortgage fraud, securities fraud of sour mortgage debt that was packed into Fannie and Freddie, ratings fraud and foreclosure fraud.  I don't remember seeing a single indictment of a major Wall Street banker that caused the multi-trillion dollar meltdown of the economy.  Oh well, must not be anything there.  It's all one big unfortunate accident that will be funded by tax payers for decades.
In the face of a new monumental financial meltdown on both sides of the Atlantic, I find the Murdoch story nothing more than a mainstream media misdirection of the nation's real problems.  This story is just a tawdry tale of a fall from grace of one of the world's biggest media moguls.  For nearly 100% of the people, it will not matter what happens to the Murdoch Empire, but the effects of debt implosions and debt ceiling defaults will dramatically change the lives of most—especially in America.
After flipping through the above mentioned channels, I turned to C-SPAN and listened to debate on the "cut, cap and balance" bill (HR 2560).  It is basically a Republican plan to cut spending and move toward a balanced budget amendment for the federal government.   It was passed yesterday mostly along party lines, but not before some rigorous and partisan debate.  Both sides accused the other of "killing jobs."  Republicans say the nation has a "spending problem, not a revenue problem."  The Democrats say spending cuts in Medicare and Social Security are just "slash and burn politics."  Many Democrats in the House have vowed not to cut spending and, likewise, the majority of House Republicans have promised not to raise taxes.  The best line came from one Congressman who said something like, "Bees can't make honey and sting at the same time, and we are just 435 stingers."
I think both sides agree that a debt default will be a disaster.  Interest rates would spike, meaning mortgage and credit card payments would follow.  Inflation would also jump, meaning even more increases to food and energy prices.   I think both parties are quietly calculating which party will get most of the blame if the worst happens?  I hope my gut is way off, but both parties will share the blame because they both got us to where we are now.
There is no way the Republican sponsored "cut, cap and balance" bill will make it through the Democratically controlled Senate.  Obama's veto pen won't even get close to it, but yesterday's debate was not totally meaningless.  What I got out of watching it was how far apart the Democrats and Republicans in the House of Representatives really are.  They might as well have been debating across the Grand Canyon, instead of the aisle on the floor of Congress.
There is some hope for a bi-partisan agreement over in the Senate, and even the President likes the proposal.  Bloomberg reported yesterday, "President Barack Obama embraced a $3.7 trillion debt-cutting plan by a bipartisan group of senators that would combine tax increases and spending cuts, saying it could offer a way out of the congressional deadlock over raising the U.S. borrowing limit. "We now are seeing the potential for a bipartisan consensus," Obama said today at the White House. He called the proposal by the so-called Gang of Six "broadly consistent" with what he has sought and "a very significant step" in so far fruitless negotiations between Republicans and Democrats over boosting the nation's $14.3 trillion borrowing authority before a threatened default on Aug 2."  (Click here for the complete Bloomberg story.) 
Just like a bill that comes from the House has to have Senate approval, a bill from the Senate has to have House approval.  Good luck on getting something with both tax increases and spending cuts through the House of Representatives.  Even if a bill is passed in both houses of Congress, it will be very difficult to get something done to avoid the August 2nd default deadline.  If the country actually defaults, the problems of Mr. Murdoch will seem trivial.