Must Watch Absolute Interference Trailer from Mike Lindell 4.13.2021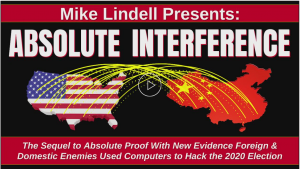 By Greg Hunter's USAWatchdog.com
Earlier this year, Mike Lindell came out with a documentary that exposed massive election fraud in the 2020 Election.  It was called "Absolute Proof."  Lindell says, "150 million people watched it."  The Deep State never counted on somebody like Lindell, who is spending millions of dollars exposing what he calls the biggest fraud in history, and I agree.  Now, Lindell is coming out with a new documentary next week (4/20/2021) called "Absolute Interference."  It will show in a very granular way how the 2020 Election was hacked by foreign powers.  This played a huge role in stealing the Election from President Donald Trump.  Not only that, but there were many other down ballot candidates robbed of their seat, too, in this fraud.  It is simply the biggest election hack in the history of America.  While you do have to wait for the "Absolute Interference" documentary to come out next week, you can get an eyeful of what is in this revealing documentary in the trailer that Lindell has already released.
It's a little less than 5 minutes long but packed with information that will be fully revealed in the full length documentary called "Absolute Interference" that will be coming out next week.  One of the experts you will see in the trailer is Lt. General Michael Flynn.  This is a Must Watch video for all patriots wanting more information on the huge rip-off that was the 2020 Election.
Enjoy the trailer of "Absolute Interference" below:
(To Donate to USAWatchdog.com Click Here)
After the video:
You can watch "Absolute Proof" here if you have not already seen it.
Lindell has another documentary called "Scientific Proof."  He says this documentary proves the 2020 Election was the "Biggest cyber-crime in world history."