North Korea Fires Another, China US Trade Friction, Dollar Negative News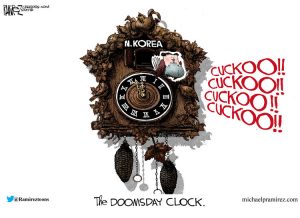 By Greg Hunter's USAWatchdog.com (WNW 301 9.15.17) 
North Korea (NK) has done it again and has fired another ballistic missile over the top of Japan. NK is extremely upset over the latest round of sanctions unanimously approved by the U.N. Security Council.  NK has reportedly threatened to "sink" Japan and "reduce the U.S. to ashes."
Meanwhile, the U.S. wants China to enforce the latest round of sanctions put on North Korea. This week, Secretary of Treasury Steve Mnuchen threatened to cut China off from the dollar trading system if they do not get tough on NK.  This could set off a financial war of massive consequences for the U.S. dollar as China holds an estimated $1 trillion of U.S. debt.
President Trump may be cutting a deal on immigration with top Democrat lawmakers. President Trump is reportedly working with Nancy Pelosi and Chuck Schumer in return for their support for things in the Trump agenda.  This has infuriated some core Trump supporters.  Mark Taylor, author of the hit book "The Trump Prophecies," says he is not worried about Trump or his tactics.  He told me that "this is how the game is played.  Trump is exposing who is for him and against him and his agenda."  Taylor went on to say, "In the 2018 mid-term elections, the people in the way of God's agenda will be removed."
Join Greg Hunter as he talks about these stories and more on the Weekly News Wrap-Up.
After the Wrap-Up:
Dr. Chris Martenson, founder of PeakProsperity.com, is the guest for the "Early Sunday Release." Dr. Martenson talks about the possible U.S./China financial war and what could suddenly happen to the buying power of the U.S. dollar.