Obama Gulf Speech Takes a Wrong Turn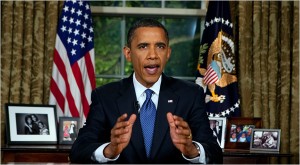 By Greg Hunter's
Last night, President Obama addressed the nation from the Oval Office in the White House on the Gulf oil disaster.  He got off to a great start by saying, "Already, this oil spill is the worst environmental disaster America has ever faced. And unlike an earthquake or a hurricane, it is not a single event that does its damage in a matter of minutes or days. The millions of gallons of oil that have spilled into the Gulf of Mexico are more like an epidemic, one that we will be fighting for months and even years." Bravo, Mr. President, for giving it to the country straight.
Then the President said, "But make no mistake: we will fight this spill with everything we've got for as long it takes. We will make BP pay for the damage their company has caused. And we will do whatever's necessary to help the Gulf Coast and its people recover from this tragedy." Once again, I think every American would agree with this statement as well. The President went on to outline his "battle plan." He said, " . . .  what we're doing to clean up the oil, what we're doing to help our neighbors in the Gulf, and what we're doing to make sure that a catastrophe like this never happens again."  (Click here for the complete text of the President's speech last night.)
First of all, this "battle plan" should have been enacted weeks ago.  The President should have called his cabinet and military leaders and taken action a week or two after the well blew up.  He's not responsible for the blown well, but his remediation efforts started late, to say the least.  I talked about this in a post three weeks ago called "Freeze BP's Assets Now." I wrote, "There has been some tough talk from the Obama Administration about BP.  Interior Secretary Ken Salazar said this week, "We will keep our boot on their neck until the job gets done. . . This is a BP mess, it is a horrible mess and it is a massive environmental mess." First of all, we need boots on the ground and boats in the water, not tough talk about "boots on their neck!" This should have been a full court press five weeks ago when this tragedy first started.  I mean all hands on deck for this one– National Guard, Army, Marines and the U.S. Navy.  Step up and do whatever it takes to protect the coastline.  Salazar is dead wrong to call this "a BP mess." It is a BP liability, but this mess belongs to America!" (Click here for the complete BP post.)
Secondly, the clean-up the President is talking about is not going well according to a New York Times article two days ago.  The headline reads, "Efforts to Repel Oil Spill Are Described as Chaotic." Chaotic is not a word you use when things are going smoothly.  (Click here for the complete NYT article.) The President's speech should have only concentrated on capping the well and taking care of the environment and people of the Gulf Coast.
The President's speech flew off the tracks when he said, "The tragedy unfolding on our coast is the most painful and powerful reminder yet that the time to embrace a clean energy future is now. Now is the moment for this generation to embark on a national mission to unleash American innovation and seize control of our own destiny." Now is not the time to embark on a new legislative agenda, but that is exactly what the President did.  He went right into clean energy and Cap and Trade (some call it Cap and Tax) legislation to pay for it.  What!  Are you kidding me?  This takes the Rahm Emanuel axiom, "You never let a serious crisis go to waste. And what I mean by that it's an opportunity to do things you think you could not do before," to a new low.
The ongoing Gulf tragedy that the President says is "more like an epidemic" is not a legislative opportunity.  The people whose lives were ruined by this mess are NOTthinking about green energy and a new tax to pay for it right now!.  Oil man, T. Boone Pickens, predicted last night the gusher will not be stopped until the "middle of September." Scientists say the runaway surging well has already vomited up 114 million gallons of crude oil.  That is equal to 11 Exxon Valdez catastrophes!
This will not just affect the Gulf Coast.  The entire country will suffer because of this mess.  This will take much more money and resources than one company, even the size of BP, can generate.  We will be lucky if BP doesn't file bankruptcy and stick America with the entire bill.  If you thought the economy had even a chance for a real recovery, then the Gulf gusher just sealed our fate to experience a double dip recession.  The ongoing Gulf disaster and the overall economy is what the President should be dealing with right now.  He should forget about pushing a new green energy legislative opportunity and passing a huge brand new tax to pay for it!