Bin Laden is Dead—Now What?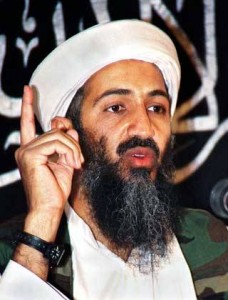 By Greg Hunter's USAWatchdog.com
Osama Bin Laden Dead! Now what? The death of Osama Bin Laden is probably the biggest story of the year, and maybe the biggest since 9/11.  There are so many angles being covered such as the burial at sea, play-by-play details of the assassination operation from the White House Situation Room and the surprise announcement by Barack Obama last Sunday night of Osama Bin Laden's death. The Hill reported yesterday, "Bin Laden's death a transformative moment for Obama White House." The story went on to say, "On Monday, Obama basked in bipartisan praise that included compliments from former Vice President Dick Cheney. Networks continued to broadcast images from the night before, when crowds of young students chanting, "USA" celebrated bin Laden's death outside the president's front door. Obama said the "world is safer" with Osama bin Laden dead, and that "this is a good day for America." (Click here for the complete Hill story.)
But is the world really "safer?" Did this action and announcement take place for political gain amid a flagging so-called recovery and low popularity ratings for the President?  I don't know, but I don't really get the feeling we are safer because one bad guy is dead.   That is also the message I got from CIA Director Leon Panetta.  Panetta was widely quoted Monday saying, "Though Bin Laden is dead, al-Qaeda is not. The terrorists almost certainly will attempt to avenge him, and we must — and will — remain vigilant and resolute."
Osama Bin Laden's last message to his 24 children, according to The Telegraph, says "not to fight jihad." Yesterday's report goes on to say, "Osama bin Laden apologised to his children for neglecting them as he devoted himself to holy war in a will written after he escaped from US forces in Afghanistan."  (Click here to read the complete report from The Telegraph.) But will his sons obey his wishes?  I hope so.
Even though Osama Bin Laden is dead and gone, many new conspiracy theories are popping up.  One story says, "Bin Laden has been dead for years." The folks at Prisonplanet.com have put together some compelling video evidence to support this claim.  (Click here to see the story from Prisonplanet.com.)
Others around the globe say they do not believe Osama Bin Laden is really dead.  The Associated Press reported this week, "Already, those questions are spreading in Pakistan and surely beyond. In the absence of photos and with his body given up to the sea, many people don't believe bin Laden – the Great Emir to some, the fabled escape artist of the Tora Bora mountains to foe and friend alike – is really dead."  (Click here to read the complete AP story.) Even if the White House eventually releases photos of Bin Laden shot in the head, I doubt that will convince many that believe he lives on.
So, Osama Bin Laden is dead.  To that I ask, now what?  His ideology still lives on and he, no doubt, will become an even more important figure in death than in life.  His memory will be used in the recruitment of legions of young people who are taught and believe the U.S. is the "Great Satan."   It took nearly 10 years to find and kill Bin Laden, but we didn't slay his ideas or anti-American sentiment.  It will take much longer to accomplish that goal.  Let's hope we don't have another 9/11 before we get it done.