Peaceful Wall Street Protesters Pepper Sprayed?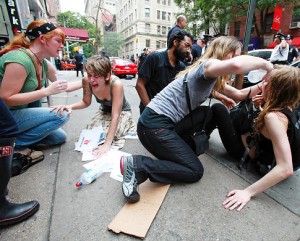 By Greg Hunter's USAWatchdog.com 
You got to wonder what kind of country we are living in when people protesting Wall Street greed and corruption are pepper sprayed.  Meanwhile, the crooks that caused a global meltdown sit and look out their plush offices and collect fat bonuses.  You wonder why people are protesting?  How about the fact that not a single high-ranking Wall Street banker has gone to jail over this calamity, let alone been investigated.  According to Professor of Economics and Law, William Black, around a thousand financial elites were successfully prosecuted in the wake of the Savings and Loan scandal of the late 1980's.  How many elites have gone to jail this time—zero!!  (Click here to read more from Professor Black.)  Former Countrywide CEO Angelo Mozilo paid a $67 million fine, but that is not exactly a big deal for a guy that ripped-off millions from the system.  The 2008 meltdown is maybe 100 times larger than what happened 20 years ago.
Fast forward to earlier this week and what is being called the "Occupy Wall Street" protest.  Protesters were being pepper sprayed by the NYPD.  The New York Times is reporting an investigation is underway to see if it was warranted.  Yesterday, the NYT said, "The police and Manhattan prosecutors are separately examining a high-ranking officer's use of pepper spray on a number of female protesters at a demonstration on Saturday.    Raymond W. Kelly, commissioner of the New York Police Department, said Wednesday that its Internal Affairs Bureau would look at the decision by the officer, Deputy Inspector Anthony Bologna, to use pepper spray, even as Mr. Kelly criticized the protesters for "tumultuous conduct."  At the same time, the office of the Manhattan district attorney, Cyrus R. Vance Jr., has opened an investigation into the episode, which was captured on video and disseminated on the Internet, according to a person briefed on the matter who spoke on the condition of anonymity because the inquiry is continuing.   
Inspector Bologna was identified on Wednesday in another video spraying others in the Occupy Wall Street demonstration with pepper spray. Recordings of the episodes show Inspector Bologna striding through a chaotic street scene along East 12th Street, where officers arrested some protesters and corralled others behind orange mesh netting. 
Deputy Inspector Roy T. Richter, the head of the Captains Endowment Association, the union that represents the upper echelons of city officers, said Inspector Bologna, who formerly led the 1st Precinct and now works in counterterrorism, would "cooperate with whatever investigative body the police commissioner designates to perform this review." 
Inspector Richter continued: "Deputy Inspector Bologna's actions that day were motivated by his concern for the safety of officers under his command and the safety of the public. The limited use of pepper spray effectively restored order without any escalation of force or serious injury to either demonstrator or police officer." (Click here for the complete NYT story.) 
The officer "restored order" by spraying some girls (one in a skirt) that were protesting?  I am not one to go against the police, but they got to follow the rules too.  Check out this video, and see if you think spraying the girls you see in the photo above was justified:
(Click here to visit the Occupy Wall Street website.)