Real Estate Spin Continues by Mainstream Media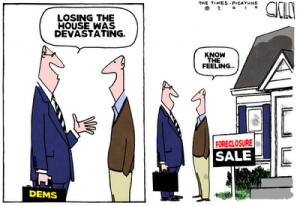 By Greg Hunter's USAWatchdog.com
The mainstream media was at it again last week–putting a positive spin on the awful real estate market.  The USA Today headline on top of the "Money" section last Thursday read "Optimism for home sales adds up."   The story said, "The trend is starting to move in the right direction," says Diane Swonk, chief economist at financial services firm Mesirow Financial.  A string of new housing data is building optimism. Existing home sales in November rose 5.6% from October to a seasonally adjusted annual rate of 4.68 million, the National Association of Realtors reported Wednesday. Demand has steadily improved since bottoming in July following the end of the buyers' tax credit."  (Click here for the complete USA Today story.)
The headline and the beginning of the story would lead you to believe everything is turning around and the worst of the housing meltdown is behind us.  The article failed to include the true context of that whopping 5.6% rise in sales.  Here's how Marketwatch.com reported the exact same story, "Sales of existing homes rose 5.6% to a seasonally-adjusted annualized rate of 4.68 million, the National Association of Realtors said Wednesday . . . Even so, sales were still 27.9% below prior-year levels and below the 5.26 million in June when a homebuyer tax credit existed." (Click here to read the complete Marketwatch.com story.) Yes, the spin from USA Today left out the fact home sales were still nearly 28% below last year's levels.
This is despite the homebuyer tax credit program that doled out up to $8,000 for buying a home.  USA Today buried the real headline and that was this little morsel, "Home prices, down almost 30% from their 2006 peak, will fall 5% to 7% more before potentially rebounding later in the year, says Patrick Newport, IHS Global Insight economist. Banks will repossess 1 million U.S. homes next year, on top of 1 million this year, says market researcher RealtyTrac."  How are back to back years with millions of "home repossessions" and declining prices of another "5% to 7%" not the lead in a story?  What does "Optimism for home sales adds up," mean?  Optimism adds up to another million foreclosures and another price decline?  This is just another attempt to put lipstick on a pig of a housing market.
The best road map of where housing is going in the next couple of years can be foretold by looking at this mortgage reset chart from Credit Suisse. (see below)  Look at the tsunami of mortgage resets for all sorts of Adjustable Rate Mortgages that don't fall off until the end of 2012.  I know I have used this chart in the past, but when it comes to predicting the real estate market, this is the proverbial picture that is worth a thousand words!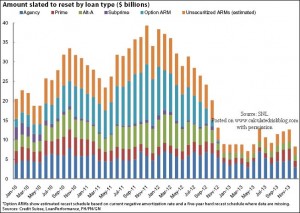 In the latest report from Shadowstats.com, economist John Williams says the "housing crisis appears to be intensifying." Here's what Williams says the so-called "recovery" looks like on a graph when it comes to housing start data.  Do you see any recovery there?  Is that what a "move in the right direction" looks like?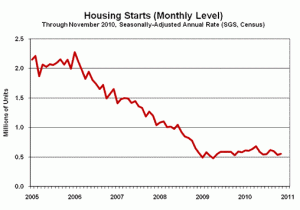 The NAR and USA Today omitted an important fact about those 4.68 million sales of existing homes. Williams says, "Foreclosure activity remained a major distorting factor for home sales, with "distressed" activity accounting for an estimated 33% of existing sales in the NAR's November reporting. . ."
That means 1/3 (1.56 million homes) of that 4.68 million total were foreclosure sales.  There's not much "optimism" for the million and a half families who lost their homes this year.  There is just no good way to spin that American tragedy.