Recovery Hype and Fed Audit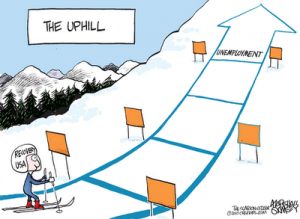 Greg Hunter's
It seems everyday I watch mainstream media there is a discussion about the ongoing so- called "recovery."  Yesterday was no exception.  I was watching an anchor on MSNBC ask a guest why the "recovery" is so uneven and why it was hard to maintain upward momentum?  I yelled out to my TV, "Because there is no recovery!"  The "recovery" story is talked about as fact, no matter what the facts really are."  For example, a story on housing just last week from the Wall Street Journal said, "Bank repossessions hit a record monthly high for the second month in a row, totaling 93,777–up 1% from April and 44% from last year."  (Click here for the complete story from WSJ.)  Bank repos up 44% in a year!  Why are "record" home repossessions not included in the "recovery"discussion?  Maybe because it wouldn't sound like a "recovery" after all?
Here is another "recovery" buster from yesterday's Washington Post.  It says the President, ". . .urged reluctant lawmakers Saturday to quickly approve nearly $50 billion in emergency aid to state and local governments, saying the money is needed to avoid "massive layoffs of teachers, police and firefighters" and to support the still-fragile economic recovery."  (Click here for the complete Post article.)  "Emergency aid" sounds like a crisis and definitely not a "recovery" to me.   
In the most recent report from Shadowstats.com (out last Friday),  John Williams is, once again, forecasting a big dive coming in the economy.  Williams says, "I would describe the shape of this recession/depression as one tracing out the path of an inept skier trying out a ski jump: sharp decline, then some leveling out with a brief up-blip, followed by a renewed plunge with the potential for an unexpectedly disastrous landing."   
I think many politicians know the economy is really not very good.  They might say the economy is recovering publicly, but privately they know it's in the tank and headed deeper.  I think some are hoping the Federal Reserve will wave a magic wand and painlessly make everything better.  Those are the politicians who will fight a bona fide audit of the Fed.  Many think an audit would spark public outrage that would put it out of business.
I also think there are growing numbers in Congress who are afraid if the Fed maintains its secret powers, it will bailout its buddies in the financial industry around the globe and leave America bankrupt.  The final financial reform bill, officially know as the "Wall Street Reform and Consumer Protection Act of 2009," has passed two similar versions in the House and the Senate.
Now, both chambers have to get together and agree on the final language for just one bill that will be sent to the President to sign into law.  The language to audit the Fed has been watered down in the Senate version.  Republican Congressman Ron Paul and others are fighting to restore language that would make possible a full audit of the Federal Reserve.  And get this, powerful Democratic Representative Barney Frank is supporting Paul!  If Rep. Frank is for real on this and not just trying to look good to his constituents to get votes in November, then hats off to him and any member of Congress who supports a full Fed audit.  I can't believe the mainstream media is completely ignoring this monumental story.  There is nothing more important, financially speaking, that Congress can pass right now.  Check out the video below that came out from the floor of Congress just last week: