Republican Debate Focused on Economy and Cain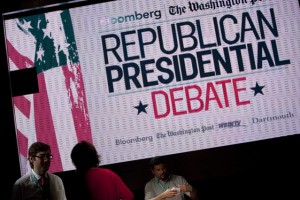 By Greg Hunter's USAWatchdog.com 
I don't know who won the October 11, 2011 Republican debate last night, but Herman Cain sure got a lot of attention for his 9-9-9 tax plan.  That's short for 9% tax on business, 9% tax on personal income and 9% sales tax.  I am sure the Republican field loves the first two, but a 9% sales tax seems like a complete downer for the party of Lincoln.  Michele Bachman (who is a tax attorney) hit Mr. Cain in the face with verbal cream pie when she said, "The last thing you would do is give Congress another pipeline of a revenue stream and this gives Congress a pipeline in a sales tax. . . and once you get a new revenue stream you are never going to get rid of it. . .When you take the 9-9-9 plan, and turn it upside down, I think the devil is in the details."  I do have to give Mr. Cain some credit for coming up with a simple easy to understand plan.  It may or may not be good for the country, but Cain's plan got him plenty of attention.
I thought Ron Paul's question to Cain on auditing the Federal Reserve was revealing in that it appears Cain is already changing his stance on a Fed audit.   Cain, who is a former Chairman of the Board of the Kansas City Federal Reserve, denied that he was against a Fed audit when Dr. Paul pressed him on the issue.  However, less than a year ago, Cain said a Fed audit was "unnecessary."   Listen to what he said in the clip below in his own words:
Last night Herman Cain said, "I don't agree with the actions of this Federal Reserve.  I don't agree with the actions of Ben Bernanke . . . I don't have a problem with the Federal Reserve being audited.  It's simply not my top priority."  I think that qualifies as a major flip flop.  I guess he now knows that 64% of the American people believe the Fed should be audited on a regular basis.  The Fed pumped out more than $16 trillion in the aftermath of the 2008 meltdown, and this is not one of his "top priorities"?  You are kidding me, right?  Is this how he turned around Godfathers Pizza?  He simply ignored the actions of prior management?  He does "not agree with actions of this Federal Reserve" and he doesn't want to know what the #@#* is going on with the people who control the world's reserve currency?   Mr. Cain is either an idiot or a shill for the Fed.  I personally do not think he is an idiot.
When Herman Cain was asked who he would use as a role model for the next Fed Chief, he said, "Alan Greenspan."  Ron Paul just shook his head in disapproval while Cain praised Greenspan's leadership.  When Ron Paul was asked to give his opinion, Paul said, "Alan Greenspan was a disaster."  Paul got a round of applause for that comment.  I think it is justified because Greenspan pushed to cut banking regulations such as the Glass-Steagall Act.  Greenspan fought against the regulation of derivatives, which today is a black unregulated pool of hundreds of trillions of dollars.  His low interest rate policies are also the reason why there was a housing bubble in the first place.  You can see how helpful his policies were to the U.S. economy and big Wall Street banks–both are teetering on insolvency.  Ron Paul predicted that Greenspan would, once again, come around to the idea of a gold standard or, as Ron Paul calls it, "sound money."
I was surprised last night that Rick Santorum hammered Cain on the fact that he supported TARP (Troubled Asset Relief Program) along with Huntsman, Romney and Perry.  Santorum also questioned Cain's 9% sales tax and his ability not to allow Washington D.C to "take freedom away from freedom loving people."  Bravo, Mr. Santorum!  Cain said he would basically veto any increase in the sales tax.  I don't know if Mr. Cain would make a good president, but, to me, he came off like he'd make a good king.
I watched the entire debate, and I just didn't find that Romney or Perry said anything all that dynamic.  When they talked, I just heard "blah, blah, blah, blah, blah, and blah, blah."  It will be interesting to see how the MSM spins the debate.