Saving Money By Spending Money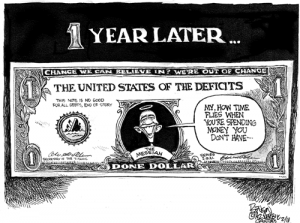 By Greg Hunter's USAWatchdog.com    
Have you ever heard someone say they saved money by buying something on sale?  An example would be saving $200 by spending $400 dollars on a new set of golf clubs that were on sale for 33% off.   In the real world, spending money is just that– spending money.
When it comes to the health care plan, the President has said we cannot reduce the federal budget deficit unless health care costs can be controlled.  The President wants to "save money" by insuring an additional 30 to 40 million people who cannot afford it.  You cannot insure that many people for free, and it certainly will not "save money."
Some estimates project the health care bill will cost at least $1 trillion over the next 10 years.  I think that cost will be much higher because government programs almost always grow into bloated government boondoggles. Take Medicare and Medicaid for example, when they started in the 60's, the two cost a few billion dollars.  In 2009, they cost $676 billion.   
President Obama spent most of yesterday trying to revive his health care legislation at a bipartisan meeting with Congressional leaders.  I think Obama really wants to do the decent thing for Americans without health care. But let's be honest, if this legislation passes, it will cost more for anyone currently paying for health insurance.
The ironic thing is, while the spending battle over health care continues, there is not so much as a mention of failed mortgage giants Fannie Mae and Freddie Mac.  Combined, these bankrupt institutions represent more than $6.2 trillion in liability.  (They were taken over by the government in 2008.)  Things are going so well in the housing market the Treasury uncapped their $400 billion limits on Christmas Eve 2009.  Now, the taxpayer is on the hook for an infinite amount of money for the continued bailout of Fannie and Freddie.   This is something taxpayers have to pay for.  The President and both parties in Congress are pretending this massive debt simply does not exist.
The word yesterday is the White House will not even address the black hole of Fannie and Freddie until next year (conveniently after the midterm election).  Our leaders are sitting around trying to figure out how to spend more money on health care while there is more than $6.2 trillion in additional debt that is not reflected in any budget or even being talked about!  Fannie and Freddie represent dire budget and deficit problems for America, and that discussion should take priority over health care.
This week, Yale Economist Robert Shiller said this was the worst housing market he has ever seen and that "it was totally supported by the government."    There is no doubt that Fannie and Freddie will be packed with even more debt to keep the housing market afloat.  Meanwhile, at the end of today's meeting, the President made a not so veiled threat to push health care through the Senate if there is no bipartisan legislation.  In September, I wrote a post called "Prediction: Obama Wins Health Care, Loses Economy."  I am sticking to my forecast, but I hope I'll be wrong.  Mr. Obama seems to be hell bent on saving money by spending money.  Now, if we can only figure out how to pay for all those "savings" and all the other debt, we will have it made.