Standing Up When It's Too Late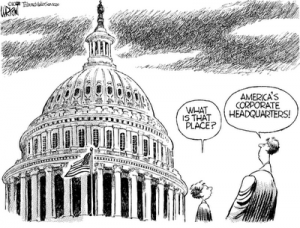 This article is comparison between America and another great empire faced with rot in high office and a decline of state—Rome.  The writer, JR Nyquist, artfully points out it's not the big events that sink an empire but many seemingly little ones.  You could call what is happening to the U.S. "death by a thousand cuts."  Except in this story, people are not really aware how deep the cuts are and exactly who is doing the cutting.  I loved this piece, and I hope you do as well.  Greg Hunter   
 By JR Nyquist
Guest Writer for Greg Hunter's USAWatchdog.com 
There is a letter by Marcus Tullius Cicero, dated 18 December 50 B.C. This letter was written to his friend Atticus on the eve of the Roman Civil War. He wrote as follows: "The political situation alarms me deeply, and so far I have found scarcely anybody who is not for giving Caesar what he demands rather than fighting it out." To explain the situation in brief, G. Julius Caesar had demanded the right to circumvent the Roman constitution, to break laws with impunity, to extend his command over a large army by using that army to threaten the Senate of Rome. "And why should we start standing up to him now?" asked Cicero. The next day he wrote to Atticus: "We should have stood up to him [Caesar] when he was weak, and that would have been easy. Now we have to deal with eleven legions…." Though he hated the idea of civil war, the only course, said Cicero, was to follow "the honest men or whoever may be called such, even if they plunge."
And who were these "honest men"? "I don't know of any," wrote Cicero in the same letter. "There are honest individuals, but [there are no honest groups]." Then he asked rhetorically if the Senate was honest, or the tax farmers, or the capitalists. None were frightened of living under an autocracy, he lamented. The capitalists, especially, "never have objected to that, so long as they were left in peace." But civil war occurred nonetheless, because people are not free to be dishonest forever. They must admit to certain responsibilities, and oppose the advance of evil. The previous inclination to look away, to do nothing, to shrug off responsibility, proves in the end to be no more than a delaying tactic. They attempted to put off calamity, Cicero suggested, and made it all the more calamitous. That is all.
Why did the Roman Senate suddenly stand up to Caesar? What triggered their resistance? As with all free people, they began with policies of procrastination and appeasement. They hoped that the problem (i.e., Caesar) would go away. In the end, however, they discovered their mistake. Everyone still hoped for peace, though none believed it was possible. Everyone wanted to avoid war, but nobody saw a way out. Pompey stood before the Senate and gave voice to what everyone thought. "If we give Caesar the consulship, it will mean the subversion of the constitution." In other words, it would mean the end of Rome, the end of the republic, the destruction of their country.
In a fitting preface to John Dickinson's Death of a Republic, George L. Haskins wrote, "that the history of Rome is … the history of the world, that, as all roads lead to Rome, so all history ends or begins with Rome." Why do free people fall into complacency? Why are threats ignored until the eleventh hour?
"Surely," wrote Cicero at the end of Caesar's dictatorship, "our present sufferings are all too well deserved. For had we not allowed outrages to go unpunished on all sides, it would never have been possible for a single individual to seize tyrannical power." Caesar's cause was not right, but evil, Cicero explained. "Mere confiscations of the property of individual citizens were far from enough to satisfy him. Whole provinces and countries succumbed to his onslaught, in one comprehensive universal catastrophe…" As for the city of Rome, Cicero lamented, "nothing is left — only the lifeless walls of houses. And even they look afraid that some further terrifying attack may be imminent. The real Rome is gone forever."
Republics are slow to defend themselves against enemies that advance, like Caesar, under camouflage. But make no mistake, republics always defend. Groups and categories of men may not be honest or brave, but when they are finally confronted with the truth — as individuals — they see no other course. They stand up and fight. We should not be surprised, therefore, that Caesar was struck down in the Senate and killed by thrusting daggers.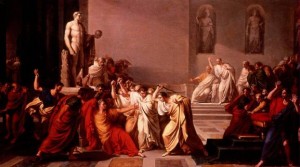 "The Death of Julius Caesar," by Vincenzo Camuccini, 1798
It is all too true, of course. "We should have stood up to him when he was weak," Cicero lamented. The problem with republican government is its tardiness; or rather, tardiness in the face of danger. As Machiavelli wrote,
The institutions normally used by republics are slow in functioning. No assembly or magistrate can do everything alone. In many cases, they have to consult with one another, and to reconcile their diverse views takes time. Where there is a question of remedying a situation that will not brook delay, such a procedure is dangerous.
Machiavelli concluded, therefore, "that republics in imminent danger, having no recourse to dictatorship … will always be ruined when some grave misfortune befalls them." This is the weakness of republican government. Here is the ground on which it dies. An obvious threat, like 9/11 or Pearl Harbor is not the greatest danger. It is the subtle, camouflaged threat, that creeps up from behind. It is this camouflage that gives reluctant men a way out. "We need not fight. We need not make a fuss. There is nothing to fear."
When this is the prevailing view, people who understand a given threat may ask: "What is to be done?"
As long as we are isolated individuals, there is nothing to do. The individual may be honest with himself, but groups are not honest. What prevails overall is an optimistic dismissal. "The threat isn't real." This is how Hitler got so far. This is how Communism took over so many countries, and continues today under camouflage. There is nothing the individual can do that will sway the crowd. And as we are a republic, our political system operates according to the psychology of a crowd. The majority are caught up in the fads and media trends of the moment. Cynical and empty publicity characterizes much of our public discourse.
Are the Russians and Chinese arming themselves against us? Is Venezuela becoming a military bulwark for Communism in Latin America? Is Mexico being destabilized by the Russian mafia (via the Mexican mafia)? Has Canada been infiltrated by Chinese intelligence allied with Chinese organized crime? Are socialist revolutionaries inside the U.S. government subverting the nation's nuclear deterrent, foreign policy, and border security?
The crowd says "no" because that is what they want to believe. But one day the country will awaken. Then, and only then, Americans will stop going along as if nothing serious hangs over them. Will it be too late? Perhaps it will be too late to save the republic. But it will not be too late to save the country.
———————————————————–
J.R. Nyquist is a political analyst and columnist who has worked for Newsmax, Worldnetdaily, Sierra Times and currently writes a weekly column for Financial Sense Online.  Mr. Nyquist's email is jrnyquist @ aol.com .  For a link to other articles he has penned (click here.)