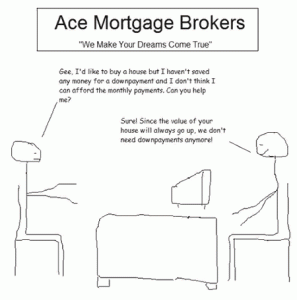 By Greg Hunter's USAWatchdog.com  (Revised)
Subprime lending is back, and it is creating headlines like: "February auto sales rise to highest level in 4 years."  That comes from a story last week from Reuters.  Reuters goes on to say, "U.S. auto sales rose nearly 16 percent in February and the annual sales rate leapt to its best level in four years . . . For a second month in a row, sales surpassed even the most optimistic expectations.  Analysts ascribed the gains partly to rising consumer confidence and upbeat U.S. economic data."  (Click here for the complete Reuters story.)  Subprime lending was one of the major causes of the 2008 economic meltdown.  You would think the banks and the government would have learned a lesson, but they did not.
Subprime auto lending played a big part in those car sales figures.  According to published reports, people with a credit score of just 500 can now get a car loan. As of last August, more than 40% of car loans were given to subprime borrowers.  That number is growing according to Loans.org.  It said two weeks ago, "Due to a new trend that many lenders have begun to participate in, more and more subprime borrowers were able to obtain vehicle financing. As a result, outstanding car loans rose by 3.8 percent, which is roughly $23 billion. That sharp uptick in outstanding vehicle financing brings the national total to $658 billion."  (Click here to read the complete Loans.org story.) 
Nothing gets the economy going faster than loaning money to people with a high chance of not paying it back.  Mind you, the economy is not improving because of increased exports, productivity gains, some sort of new technology or dynamic innovation.  It appears to be improving (somewhat) because of the return of subprime lending.  If that is not a sign of the impending doom of another future crash, I don't know what is.  If we could only put people back to work as fast as someone could qualify for a subprime car loan, we'd be able to fix America's chronic unemployment problem—at least for a little while.
Not to be outdone by the auto industry, real estate is getting a boost from the government's revamped "Home Affordable Refinance Program," also known as "HARP 2.0."  This program is only available to homeowners who have mortgages with Fannie Mae or Freddie Mac, but that is effectively around half of the mortgage market.  Perspective borrowers have to be current on their payments, and under the old HARP the mortgage had to be under 125% of the home's current value.  In other words, if you owe a $125,000 mortgage but the home is only worth $100,000, you can still borrow the full $125,000 and get a new loan with cheaper payments.   Under the revised Harp 2.0 (according to HARPloans.com) the loan to value (LTV) cap has been eliminated making HARP 2.0 an even bigger taxpayer rip-off.  HARPloans.com says, "The 125% LTV cap on fixed rate mortgages has been eliminated (there is still an LTV cap of 105% on adjustable rate mortgages)."  (Click here for the HARP loans.com.)
Bankers love this new government financing program.  It cuts payments for mortgages by a few hundred bucks (on average) but not principle.  It retains the value of all those mortgage-backed securities packaged and sold by the banks, and this locks the homeowner into another underwater mortgage at taxpayer expense.  What do you think will happen when interest rates on mortgages go back up to more normal levels?  The underwater mortgages will be sunk even deeper, and taxpayers will be on the hook for billions in more losses.   On top of that, HARP 2.0 creates new mortgage paperwork so foreclosing will be much easier next time around.  Stupid consumers live on this question, "What are the payments?"  It is the dumbest finance question you can ever ask.
One mortgage website called Harploans.com touts this new government boondoggle as some sort of consumer rescue.   A recent Harploans.com posting said, "In addition to helping more than a million underwater homeowners refinance their mortgages, HARP 2.0 could cause an increase in mortgage originations of between $200-300 billion in 2012-2013."  Here's the real kicker and the most outrageous part of this new program.  Harploans.com goes on to say, "It is also notable that Fannie Mae has made some key changes to their underwriting guidelines pertaining to HARP 2.0 that could encourage more lenders to jump on board with the program. Fannie eliminated an underwriting requirement that forces the lender to determine if the borrower has a "reasonable ability to repay" the loan based upon debt-to-income ratio, income, and other factors. It appears that the lender is now able to qualify borrowers through a streamlined process that could only take into account credit score and the number of recent payments made. This could make it significantly easier to qualify borrowers for new loans.  (Click here for the complete Harploans.com posting.) 
Talk about throwing good money after bad, I think "HARP 2.0" should be called "Subprime 2.0" or maybe "Subprime Lite."  No matter what you call it, this is nothing less than another banker bailout program handed out at taxpayer expense.  What can you expect in an election year?  It's subprime to the rescue for autos, housing and the bankers; but they are trying to rescue a system that cannot be saved.